New WallStreetOasis.com Coming Soon!
O
Points)
on 10/5/08 at 1:22pm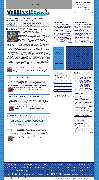 Hey Everyone,
I just wanted to make a quick post to let everyone know that after ~2 months in development we are just a few weeks away from the launch of the new WSO.
The layout will be much cleaner, and we will use a lot of the suggestions many of you made to me this past summer when I was traveling in SE Asia. The new theme should also greatly improve speed and add some new cool community features as well.
We will also soon start publishing a new video blog from Harvard Business TV that will provide market recaps on Monday-Wednesday and Friday.
Stay Tuned,
Patrick