Student Loans For Trading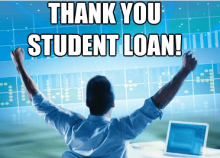 I was wondering if it's possible to take out a student loan to trade. Is it illegal if the loan is from a private institution? Is it illegal in general?
I'm about to transfer to a real university from a community college and I have to take out a loan anyways so might as well throw in a few grand to trade with no? I want to day trade equities but you need at least 30k which would impossible to get, I think, so I'll have to stick with futures/options. I already trade forex and I want to branch out.
And what are your thoughts on this statement:

The odds are way better nowadays that you'll make more money from trading than a college education
The WSO Advantage - Trading
Upcoming Events
Oct 10 2015 - 8:00am

to

Oct 11 2015 - 8:00am

Oct 10 2015 -

1:00pm

to

2:00pm

Oct 11 2015 - 8:00pm

to

Oct 12 2015 - 9:00pm

Oct 14 2015 - 8:00am

to

Oct 15 2015 - 8:00am

Oct 15 2015 (All day)

to

Oct 16 2015 (All day)
Poll
Long term, which career path interests you the most?
Accounting
0%
Asset Management
8%
Commercial Banking
1%
Consulting
5%
Corporate Finance / Strategy / Development
8%
Entrepreneurship
6%
Equity Research
4%
Fintech
2%
Hedge Fund
21%
Investment Banking
10%
Investment Advisor / PWM
1%
Private Equity
16%
Prop Trading
1%
Real Estate
5%
Sales & Trading
3%
Venture Capital
5%
Other Finance Role (academia, non-profit, government, legal, etc)
1%
Other - Non Finance
2%
Total votes: 480