Student Loans For Trading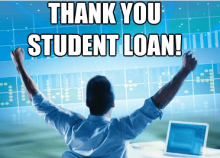 I was wondering if it's possible to take out a student loan to trade. Is it illegal if the loan is from a private institution? Is it illegal in general?
I'm about to transfer to a real university from a community college and I have to take out a loan anyways so might as well throw in a few grand to trade with no? I want to day trade equities but you need at least 30k which would impossible to get, I think, so I'll have to stick with futures/options. I already trade forex and I want to branch out.
And what are your thoughts on this statement:

The odds are way better nowadays that you'll make more money from trading than a college education
Upcoming Events
Feb 4 2016 - 8:00am

to

Feb 5 2016 - 8:00am

Feb 5 2016 - 8:00am

to

Feb 6 2016 - 8:00am

Feb 9 2016 -

5:00pm

to

6:00pm

Feb 10 2016 - 8:00am

to

Feb 11 2016 - 8:00am
Poll
Who do you want to win the superbowl?
Panthers
28%
Broncos
37%
Don't care
35%
Total votes: 182