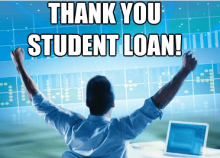 I was wondering if it's possible to take out a student loan to trade. Is it illegal if the loan is from a private institution? Is it illegal in general?
I'm about to transfer to a real university from a community college and I have to take out a loan anyways so might as well throw in a few grand to trade with no? I want to day trade equities but you need at least 30k which would impossible to get, I think, so I'll have to stick with futures/options. I already trade forex and I want to branch out.
And what are your thoughts on this statement:


The odds are way better nowadays that you'll make more money from trading than a college education
Upcoming Events
Apr 27 2016 -

7:30pm

to

9:30pm

Apr 29 2016 (All day)

to

Apr 30 2016 (All day)

Apr 29 2016 - 8:00am

to

Apr 30 2016 - 8:00am

May 1 2016 -

7:00pm

to

8:00pm

May 3 2016 - 8:00am

to

May 4 2016 - 8:00am
Poll
What do you consider "Working on Wall Street"?
Working for a high finance bank on the actual "Wall" St
10%
Working for a high finance bank in Manhattan
47%
Working for a high finance bank in the greater NYC area
13%
Working for a high finance bank in the (anywhere in the USA)
13%
Working for a high finance bank (Worldwide)
15%
Other
2%
Total votes: 1478