VALUATION MODELING COURSE
The Wall Street Oasis
Introducing...
170+ Lessons, 10+ Exercises and Real Cases 
To Help you Thrive in the Most Prestigious Jobs on Wall Street...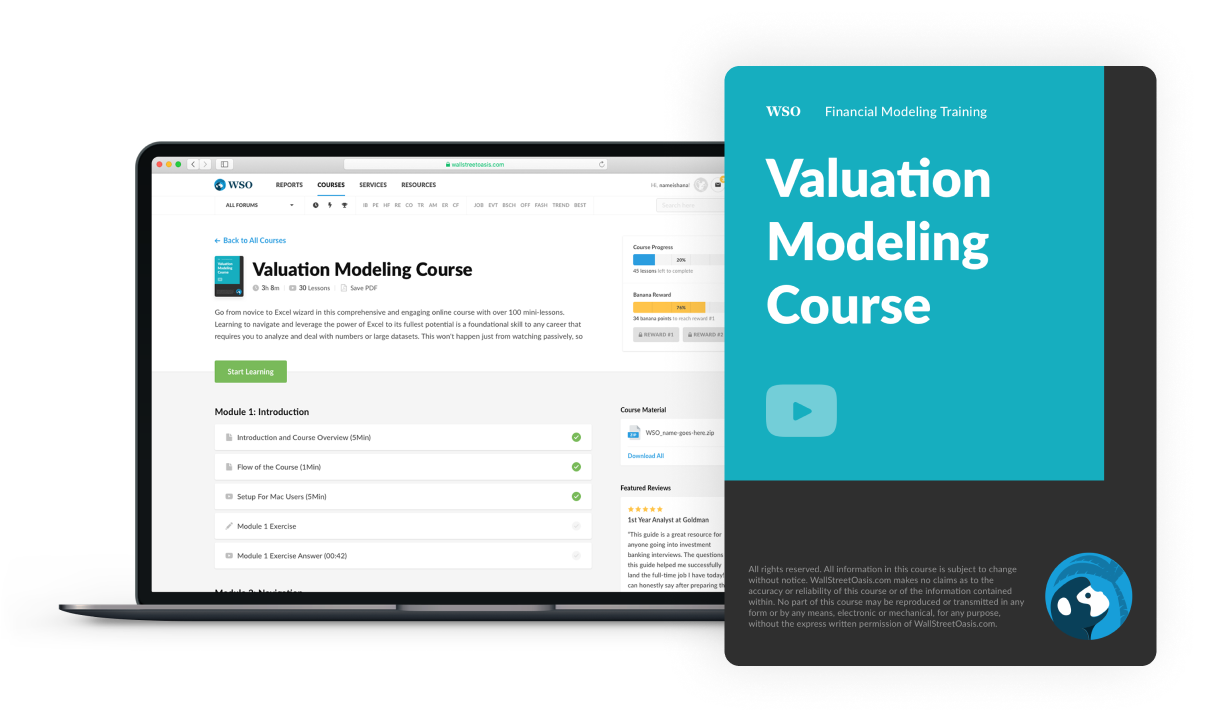 HERE'S JUST SOME OF WHAT YOU'LL GET IN THIS COURSE
The Big Picture (13 video lessons, 2 examples)
In this module, we use 13 video lessons to go through the theory and logic behind Valuation. This knowledge is then put into practice with a true case and robust valuation analysis of Nike, Inc. 
Enterprise Value & Equity Value Practice (10 video lessons, 2 examples)
In this module, we use 10 video lessons to explore enterprise value and equity value, a bit more in-depth by applying the knowledge we gained so far across a number of practice exercises.
Trading Comps Intro (20 video lessons, 4 examples)
In this module, we use 20 video lessons where we will perform a much deeper dive into trading comps. We give a review of key concepts, an in-depth focus on enterprise value and equity value multiples, and apply it through a couple of practice examples, with company filings and data. 
Trading Comps Set-Up (22 video lessons)
In this module, we use 22 video lessons to do a much deeper dive into how to set up trading comps.  First, we cover a step by step process for building comps, then we give you a walk-through of an excel-based trading comps template, and finally set the foundation for our case study with a real company. 
Spreading Real Firms (5 modules, 40 video lessons)
In these 5 modules, we use 40 video lessons to provide a step-by-step guide to building out trading comps across 4 real companies.  We input assumptions and make adjustments for each comp and then roll up this analysis into a summary tab.
Benchmarking and Outputs (2 video lessons)
In this module, we summarize and benchmark the outputs from our trading comps. This is a summary of all the comps we've spread to give you a deeper understanding of how to interpret the final results as a true professional would.
Precedent Transactions Introduction (8 video lessons)
In this module, we use 8 video lessons to introduce you to the theory behind precedent transactions.   We also give you 2 examples of how to execute this challenging analysis with ease. 
Precedent Transactions Setup (12 video lessons)
In this module, we use 12 video lessons to show you how to setup a precedent transaction analysis using a step-by-step process. Selecting a peer group, locating relevant financial info, spreading key financial metrics, benchmarking a peer group and more. 
Real Transactions (6 modules, 43 video lessons)
In these 6 modules, we use 43 video lessons to spread the transaction comps for 6 real-world acquisitions. We review acquisition considerations for all of them and show you how to execute a precedent transaction analysis like you would on the job. 
Transaction Outputs & Wrap-Up (3 video lessons)
In this final module, we summarize and benchmark the outputs from our transaction comps. This is a summary of the full analysis from the work done in previous modules and helps you interpret the results as a true professional would.
WSO Valuation Modeling Course - Video Preview
Grid items
Enterprise Value and Equity Value Practice Examples
Trading Comps Analysis Output
Course Summary - Table of Contents
Below you will find a list of the modules and lessons included in this course.
Our students have landed and thrived at positions across all top Wall Street firms, including:

Don't Take Our Word For It
Hear from a few of our 57,000+ students...
"I liked how detailed and comprehensive the Valuation Modeling Course is, from beginning to end. All the instructions in every module are extremely clear. Just like all of the other Wall Street Oasis courses, it's very helpful to have best practices detailed throughout the videos that are directly applicable to work, and other tips such as where to look for comparable peers and competitors. I'd definitely recommend this course to anyone, both student or working professional, looking to take a comprehensive course on valuation modeling or whoever wants to break into M&A."
"Glad to say that this has definitely been one of the more detailed courses yet. Very useful to see how 'spreading comps' is applied to Companies from many different areas ranging from fashion to wearable tech to luxury brands. Good to see the objectives outlined early on and sufficient introductory lessons to ensure newcomers are able to get up to speed with ease."
"Not only did the course dissect different valuation methodologies from different angles, but it also gave great examples across different companies to put the theories into practice. I think that this course alone worth the price you are charging for all six courses!. The course is extensive and covers a wide range of topics in valuation, and after the course, I feel confident going into my future internship for sure. I particularly liked the summary & reflections at the end of each module. It capitulates the key concepts of the module quite well and refreshes the knowledge sometimes with simple and easy to understand examples"
"I thought it was one of the most informative valuation modeling courses I have taken. I would recommend this course over others I have taken."
"The Wall Street Oasis Valuation course is by far the most in-depth look at valuation I have come across in my academic/professional career. The course goes far beyond the basic concepts taught in the classroom and gives you a front row seat into what an analyst does on the job and how they value a business in the real world. You'll learn the best practices to become a high performing analyst and you're provided with plenty of real-world examples to practice with. If you're interested in a career in investment banking/valuation there's no better resource out there to get you ready to hit the ground running and give you a head start on the competition."
"The WSO Valuation Modeling Course is one of the most exhaustive valuation courses out there. The instructors are amazing and have a lifetime of knowledge between them. With seemingly endless hours of material, this course will give you all the information necessary to be ready for your first day as an analyst. The Valuation Modeling Course, and all other WSO courses, are well worth the price."
"The instructor has truly polished the course structure, perfect amount of theories and methodologies, coupled with plenty of examples."
Get the Valuation Modeling Course Certification
After completing the course, all students will be granted the WSO Valuation Modeling Course Certification. Use this certificate as a signal to employers that you have the technical Valuation skills to immediately add value to your team. 
Demonstrate that you have put in the work outside of university courses to make yourself a master in executing comparable company and precedent transaction analyses.  Easily share to LinkedIn and other social media sites to highlight your skills and strengthen your profile as a candidate.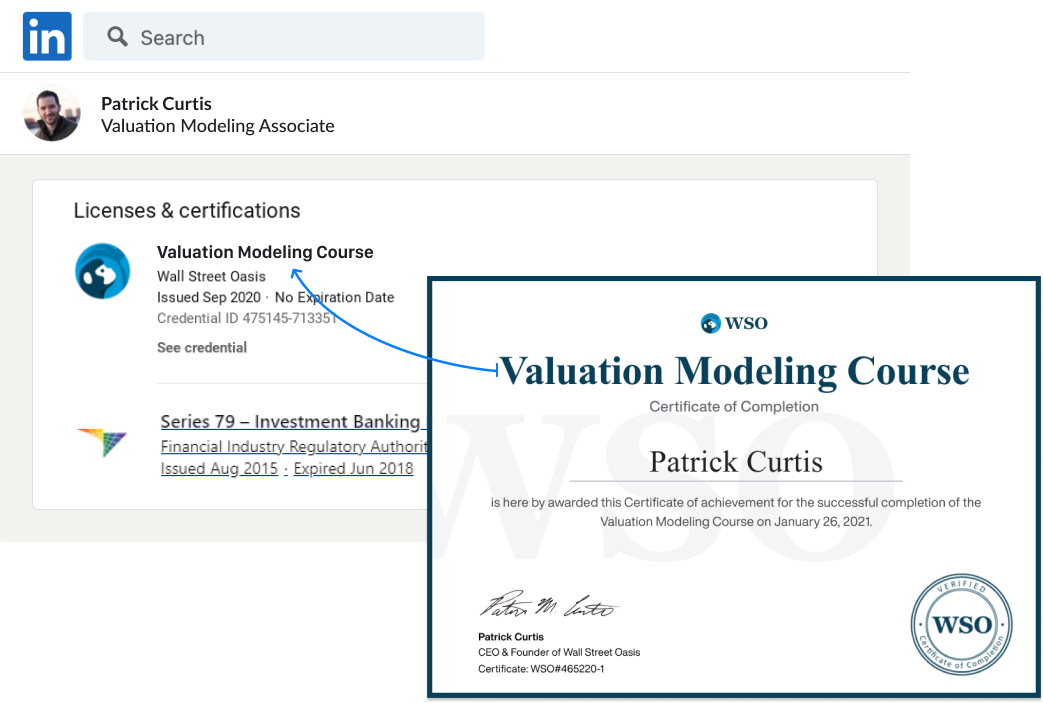 How Much is Your
Finance Career Worth?
What You Get

Value

WSO Valuation Modeling Course

170+ video lessons across 19 Modules taught by a top-bucket bulge bracket investment banker...

$500

10 Interactive Exercises with Real Financials

Practice what you'll do on the job with detailed exercises spreading the financials of 10 companies

$450

24 Months of Unlimited Elite Support from Actual Finance Pros

Have a technical question? Easily drop a comment into any lesson and get a response from a pro within 48hrs.

$300

TOTAL VALUE

$1,250
1
Get Unlimited Lifetime Access To The WSO Valuation Modeling Course For 84% Off
$1,250
$197
...or get access today for only $77
Secure checkout
100% Unconditional Money-Back Guarantee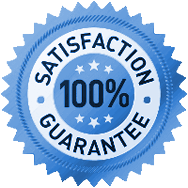 12 Month Risk-Free Guarantee
Your investment is protected by our 12-Month Risk-Free Guarantee. If, for any reason, you don't think the WSO Valuation Modeling Course is right for you, just send us an email, and we'll refund every penny. No questions asked. In short, you get a great return on your investment, or you get your money back. It's that simple.