27,394 Days
ST
Points)
on 12/19/11 at 10:30am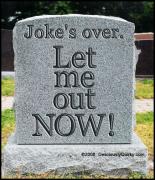 [quote Christopher Hitchens]"I know what's coming. I know no one beats these odds and it's a matter of getting used to that and growing up and realizing that you're expelled from your mother's uterus as if shot from a cannon towards a barn door studded with old nail files and rusty hooks. It's a matter of how you use up the intervening time in an intelligent and ironic way."[/quote]
27,394 days, give or take a couple leap years. 27,394 days. That's the average life expectancy of an American male today. Some get a little more time, many get far less. I suspect I'll fall into the latter category, and I've already spent 15,585 of my days. So odds are I've got about 11,800 days left to live. Or less. Probably less.
We usually don't give much thought to how we spend our time. All of us come in to this world with some time. Some get a hundred years and some don't last a week, but on average we've got 27,394 days on account the day we're born. Then we start spending that time. And make no mistake: we spend it.
By the time you're old enough to vote, you've spent 6,574 days. You want to drink a beer legally in the Land of the Free? That'll cost you another 1,100 days. Before the average college grad holds that precious lambskin, he's down 8,400 days. On the day most people have been taught life begins, they've already got less than 19,000 days left.
By now you're probably wondering why I'm putting you through this rather morose thought exercise. Or maybe your mind is already rebelling, which is the natural reaction to contemplating our own mortality. You might even be telling yourself that it doesn't apply to you; longevity runs in your family, you don't drink or smoke, you exercise like a maniac. Well, let's explore that for a moment.
We all know on some subconcious level that we could get hit by a bus and die tommorow. We tend not to focus on random occurrences like that because we're generally powerless to prevent them, so they don't merit our concern. But many of us have convinced ourselves that we'll live to be a million. My wife's grandmother died a couple weeks ago at 97, so long life is a reality for a decent number of people.
Just what happens if you beat the odds, then? After age 75, your quality of life deteriorates at a breakneck pace. We can all point to older folks who are active and vivacious, and we can point to them because they're the outliers. The vast majority of octogenarians exist in a nightmarish maelstrom of chronic illness, adult diapers, and nursing home personnel who view them as nothing more than a source of income (well, them and the pain meds the nurses short them so they can be sold on the street).
Screw that. I'll take the undercarriage of a city bus any day of the week.
So how do you spend your time? If you're over the age of 15, you spend an average of 2.7 hours per day watching TV. That's 41 days a year you'll never get back. In finance, the number is probably even higher because of all the CNBC we watch. Over the course of the average lifespan, that's 2,500 days in front of the tube. 2,500 days out of your 27,394. And that doesn't even account for all the TV you watched before you were 15.
What about cruising the net and playing video games? I don't even want to think about how many precious days I've given up to lolcats and other stupid bullshit. How many of you have sacrificed months or even years of your life on the altar of World of Warcraft? It's scary.
Here's something to think about that might salve the hurt a little bit: it doesn't take much to be successful in this life. I'm not talking about private jets and pounding out supermodels, I'm talking about baseline success. If you've got 27,394 days and you manage to spend at least 13,698 of them (one more than half) with a roof over your head, clothes on your back, and a full belly, then you're the big winner. Because a lot of people can't throw up numbers like that.
The barn door is looming larger for me each day. I'm fairly certain the trajectory of my extra-uterine cannon shot reached its apogee years ago, and while the barn door still feels like it's a ways off, I can now see the reflection off some of the more jagged pieces of glass and the glint off the tips of a few of the larger meat hooks. Relatively speaking, it won't be long now.
We all have turning points in our life. Like Day 5,791 when I buried a friend my age for the first time. Or Day 6,617 when I graduated high school, and Day 6,618 when I left home forever. Day 7,961 when I surrendered to the darkness. Day 9,372 when I destroyed my career and fled the country. Day 11,016 when I hit my walkaway number and left Wall Street forever. Day 11,834 when a bunch of terrorist assholes flew planes into the twin towers and set my life on its current trajectory. Day 11,945 when I met the love of my life. Day 13,251 when I lost my newborn son because the birth mother we'd supported throughout her pregnancy decided to sell him to a higher bidder. Or 25 days later when a hurricane destroyed my city. Day 13,954 when my dad died. Day 14,249 when my adopted sons hit American soil for the first time. Day 14,390 when my first post went up on WSO.
How will you spend your time? How will you make it count? Which will be the days that define who you are? By the time you read this I'll be on Day 15,586 and there's an outside chance I'll meet Minka Kelly tonight (we're going to be in the same place at the same time). If it happens, I might just plant one on her to make this day another one for the books.
Don't waste it, guys. Please don't. You've got an expiration date. You can either man up and accept it, and let it liberate you to do great things, or you can put your head in the sand like the rest of the lemmings and lead a life of quiet desperation until the clock runs out.
As for me, I'm gonna hit that barn door at full speed with a drink in my hand and a grin from ear to ear. Nobody gets out of this alive.
Tags: