29 Crucial Facts about the WSO Conference
Points)
on 7/11/12 at 3:00pm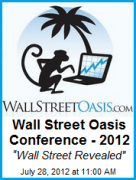 When is it?
Saturday, July 28, 2012 from 11:00 AM to 5:00 PM (ET)
Where is it?
Gold Ballroom of Hotel Pennsylvania , 401 Seventh Avenue (at 33rd St.), NYC
What firms will be represented there?
Longer list on it's way as we collect more bios from our panelists / speakers, but right now we can confirm Bank of America ML, UBS, Barclays, Houlihan, Duff & Phelps, BDO, Huron, Rothschild....many more coming.
Who will be speaking?
One of our primary speakers will be Josh Rosenbaum, Managing Director at UBS and co-author of one of the most widely read and respected books on Valuation -- Investment Banking: Valuation, Leveraged Buyouts, and Mergers and Acquisitions will be attending the WSO Conference as a speaker and sitting on several panels.
Will there be food/drinks?
There will be a simple lunch and refreshments provided.
What is the conference schedule (meet/greet, speech, q&a, smoke break, lunch, speech,etc...)?
We will have our keynote followed by a mix of panels, short networking breakout sessions and additional speakers.
What are the Discussion Panels?
--------
1. Panel Discussion | "David or Goliath: What Team Should You Join?"
A discussion surrounding the pros and cons of joining a BB vs. a MM or Boutique investment bank. Panelists will talk about their experiences and why they chose the type they did.
2. Panel Discussion | "Networking Nonsense: Career Missteps to Avoid and One Thing You Should Do Today"
Panelists will talk about the best practices in career advancement including what they look for in a resume, how to navigate office politics, and expand on best practices in networking.
3. Panel Discussion | "Exit Opps (And Why You Shouldn't Care)"
Perspectives on the buyside (PE, HF, VC), corporate development, and other options coming out of analyst and associate roles in finance.
4. Panel Discussion | "Is This Piece of Paper Worth $200,000?"
Discussing the relative benefits and costs of MFA, MBA, CFA, with at least one representative of each perspective.
--------
How many people do you project to attend?
We estimate ~250-300 will attend (sell out).
Which WSO super-users will be there?
IlliniProgrammer, CompBanker, Monty09, ANT, Rufiolove + many more
Who is conference designed for? Target audience?
It is designed for individuals interested in pursuing a career in the finance industry. The target audience consists of current college students AND young finance professionals or anyone interested in gaining an edge in these competitive industries. Overall, it will provide a great networking opportunity for both college students and young finance professionals.
What
What is the current ticket price?
Current discounted tickets are $109 + fees ($3.72) - THIS DISCOUNTED PRICE IS LIMITED AND WILL SELL OUT SOON.
Do you offer group discounts? Yes, please contact [email protected] for details.
What is the dress code?
Business Casual.
I'm a Certified User and interested in sitting on a panel, is it too late? We are still in the process of adding a few more panelists. If you are interested sitting on a panel, please e-mail your resume (and maybe the type of panel you think you'd be best for - PE related, IB related, career related, advanced degree related, etc) to [email protected] so I can see if there is a good fit for any of our remaining spots.
Can the wall street mentors 50% discount be used towards a job consultation instead of a mock interview?
Yes it can. Once you purchase a ticket, if you would like to renew the this discount, please e-mail [email protected] to get set up with your Wall Steet Mentor with the email you used to register for the ticket. This discount is valid through 2012 (one use per ticket).
How quickly can you meet your mentor after paying?
Usually if you are in a rush we can get you scheduled with a mentor within 24hrs. Typically it takes 48hrs as we try to get more info on your background and interests first.
How quickly can you access the job board after paying? How do we access it?
You can start your 3 month Job Board access anytime in 2012. To access it you e-mail [email protected] your username - must be an account that uses the same email you registered with.
If more perks will still be announced, do they get grandfathered to prior payees, or only act on those who pay from that point forward?
As more perks get announced, if you have a ticket you get ALL the perks. That is why it's a huge advantage of getting in now before prices jump (big) again...we're now less than 2 months away from the event. It's go time!
Damn I'm really contemplating on going. But i feel like being a freshman/rising soph. I'll get frowned upon and it won't be much beneficial to me, thoughts?
This will be a very valuable networking opportunity especially for someone trying to break into financial careers. It is never too early to start networking...ok, if you're 12, may be a bit too early.
Who from WSO will be there?
Patrick - CEO, Andy - COO, Justin - Job Board & Co. Database Manager, Ken - manager of jdoasis.com, Neal - Assistant Content Manager, Brian - Campus Rep leader (maybe), João - main developer (maybe), some of our writers/interns/campus reps, and other partners/friends of WSO.
How can we get a discount on the Hotel?
Call Hotel Pennsylvania (location of the conference) at 800-223-8585 and mention the group "Wall Street Oasis Conference" and you'll get the following rates for Friday & Saturday:
* $149/night for a king bed ($348.94 total w/ taxes) and
* $169 ($394.96 total w/ taxes) for 2 double beds.
When should i get my ticket? ASAP before the price goes up & it sells out.
question: All of the announcements so far have been for speakers. Patrick mentioned that there's going to be panels. Who's going to be on those panels? Is it going to be a bunch of current analysts/associates?
Yes, the panels will be a mix of current and former analysts / associates / VPs (some cases MDs) from various groups and industries (IB / PE / HF, etc)...we are filling out the panels as we speak. We'll announce more as they fill up.
Is there anything happening the night before the conference?
There will be an informal happy hour the night before at Galway Hooker Pub (36th and 5th/Madison) to welcome those that arrive into town on Friday night. More details to come soon. 21+ only.
Is there going to be an after party?
Yes at SideBAR - 120 E. 15th Street, Manhattan
6:00pm to 10:30pm, main bar & back lounge
21+ only
I won't be able to make it. Will there be blog / twitter posts live from the event? If so, is there a twitter #hashtag?
We will likely have someone live blogging / tweeting from the event in real time....but much better if we can meet you in person! Twitter tag is #wsocon
Is there gonna be a monkeying around panel?
Maybe a monkeying around room? we could maybe have little people in monkey suits in that room to help make people relax if the networking gets too intense in the other rooms...breathe.
Will there be a guy in a monkey suit there?
I will either rent a monkey for the conference to serve as our mascot and/or get a guy to dress up in a monkey costume for photos with all the attendees. :-) just like the spirit of WSO, we want the conference to not only be useful, but also fun.
Patrick, are you planning on hosting this every year?
Yes
What is the Refund Policy?
On or before July 14, you will get 100% of your ticket price back.
July 15 to July 21 you will get 75% of your ticket back
July 22 to Day of Conference (July 28) - Strictly no refunds since we have to commit to final # then.
What people are saying about it:
Compbanker:
Very excited for the conference. I've met a number of the users from the forums and there are definitely some great people here. Anyone who doesn't have a ticket yet should get one NOW!
IlliniProgrammer :
Will be there. I'm giving up a nice summer Saturday of hang gliding to come- I think it's going to be a great time.
As the economy starts to pick up, the ticket price and cost of getting here starts to look a bit more like an investment in your career than an expense- especially when it's amortized over several conference.
Monty09
I am helping to run things so you know it is going to be top notch
rufiolove:
I am very excited about the conference and the opportunity to meet users and prospective monkeys looking to learn more about the industry. It's truly amazing how many awesome people Patrick has lined up: Monty, Compbanker, Rosenbaum and others... That is a ridiculous list industry experts looking to drop knowledge and answer questions. You guys should be stoked.
Definitely gotta pick up a ticket if you haven't done so already, it's gonna be Legen... wait for it, wait for it.... DARY!