Improving your game
Points)
on 6/21/12 at 10:30pm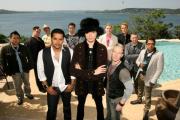 Game: that ineffable quality which all men aspire to possess, so we can attract women. People have written books and articles on it. Heck, there are men out there who call themselves "pickup artists" and do this for a living.
Your humble blogger is no casanova or a master of the game. However, I have gone out a lot in my younger days and have seen a thing or two. I still give advice to my friends on their various social situations. One thing that has struck me over all these years was the same type of mistakes guys make when they are talking to women, especially the ones they are attracted to.
With that being said, I want to offer a list of do's and dont's. A lot of this is obvious; I do not pretend to offer any profound insight into male-female social dynamics. But I think it's worth doing a recap since after all summer is in full session, and millions of men throughout this great country are eagerly going out, with hopes of meeting women.
1. Do not go to a venue with the sole purpose of picking up women. Huh? Isn't this counter-intuitive? After all, isn't that why single men go out in the first place? Well, yes and no. There is nothing wrong with going out and trying to meet women. The problem though is when too many single guys go out ONLY for that purpose rather than trying to have fun with their friends. Men who do this are quite easy to spot. They are in the corner with their bros, nursing a gin and tonic, and scoping out the women at the bar. Their obsession with finding someone makes them unattractive and needy. Women find this creepy. They want fun laid-back men who are able to have a great time regardless of the circumstances.
2. Always maintain eye contact when speaking to a woman. I actually struggle with this quite a lot. Looking someone directly in the eye, especially an attractive woman, can be very tough. The eyes are the windows into the soul, as the old saying goes. And not being able to look directly at someone reveals insecurity, perhaps the most unattractive quality you can convey to a woman. I would go as far as to say that being overweight is less of a hindrance than being insecure. So guys, whenever you are chatting a lovely lady up, look her directly in the eye. And try to smile. Staring at someone without any change in facial expressions is obviously creepy.
3. Do not get overly emotional. By this, I mean maintain a stable voice tone and body posture when speaking with a woman. Sounds easy right? Well, it's actually tougher than it looks. A lot of us, when we are trying to impress a woman with a certain story, will tend to raise our voice and use hand gestures way too often. Being overly emotional in this regard is unmasculine and somewhat goofy. It also displays a sense of neediness, as if we are seeking her affirmation of our worth. Always stay even-keeled. Do not let your voice tone get too high. And when speaking, try to relax your arms by your side, so you don't start flapping them around.
4. Go with the flow of the conversation. Don't constantly think about what you will say next. I'm so guilty of this it's not even funny. You are talking to someone, and while you're listening to her words, your brain is saying, "ok, once she stops talking what can i say next to make her laugh or come across as interesting?" STOP THIS NOW. This only kills the flow of the conversation, and it will hinder your ability to enjoy the moment. You will also get a lot more nervous when you do this as well as losing focus on the actual interaction. So make sure that you are attentive, fully absorbing her statements. You will come across as authentic to the woman, as someone who cares about learning more about her.
So these are just my thoughts. I hope all the WSO monkeys have a great social summer!
"If life were fair, there would be no opportunity for arbitrage."