I'm about to go ape sh*t on Baghdad...
Pages
Private Equity - Other - 3rd+ Year Analyst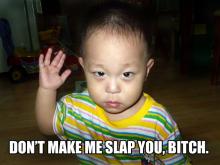 What. The. Fuck?!?
If I was the POTUS, I would lose my fucking mind if I heard aobut this! I would remove every single troop from the country and make an announcement that we are severing ties with Iraq and that unfortunately we can't afford to repair anything we make accidentally break, so we won't be helping them in the future. Then just let the shit show begin as Iran comes over the fucking berm taking land until Iraq is known as Kuwait's little brother.
http://www.reuters.com/article/2011/02/17/us-iraq-...
This is like a homeless person begging for change and you give him $5 bucks so he can get some food and then him saying, "Only $5? I think I deserve a bit more than $5."
How on earth does that country have the audacity to demand money from the US?!? And "destroyed our beutiful city". Are you fucking joking?!? I've been to Baghdad and the only things I considered remarkable were Saddam's extraordinary palaces and the momuments that were built for him, by him (Arc of Triumph/Hands of Victory, the portraits and statues of himself, etc.).
Regards
The WSO Advantage - Land Your Dream Job
Upcoming Events
Nov 26 2015 - 8:00am

to

Nov 27 2015 - 8:00am

Nov 29 2015 - 8:00am

to

Nov 30 2015 - 8:00am

Nov 29 2015 -

12:00pm

to

1:00pm

Nov 30 2015 -

8:00pm

to

9:00pm

Dec 2 2015 - 8:00am

to

Dec 4 2015 - 5:00pm
Poll
Long term, which career path interests you the most?
Accounting
1%
Asset Management
10%
Commercial Banking
1%
Consulting
4%
Corporate Finance / Strategy / Development
9%
Entrepreneurship
6%
Equity Research
3%
Fintech
2%
Hedge Fund
18%
Investment Banking
9%
Investment Advisor / PWM
1%
Private Equity
16%
Prop Trading
2%
Real Estate
6%
Sales & Trading
3%
Venture Capital
6%
Other Finance Role (academia, non-profit, government, legal, etc)
1%
Other - Non Finance
2%
Total votes: 1175