New Outlook.com Email Addresses
Points)
on 7/31/12 at 2:00pm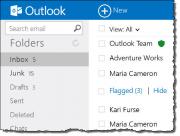 Microsoft just released their outlook.com email service that completely revamped the horrible hotmail.com / live.com services. Its completely newly built from the ground up. And i got two words: Simply beautiful.
Its just completely professional looking now.
Already reserved my [email protected] and [email protected]
I failed to get my [email protected] though..
You guys should go ahead and reserve your emails. fast. Especially if your name is John Smith.
Since Gmail is already used by a lot of people as contact information on their resumes, I was wondering if outlook.com would be more professional than say hotmail, live, or yahoo? Outlook as a brand itself definitely has a professional ring to it.