Saudi Arabia IBD information--Riyadh, etc.?

O
Points)
on 3/9/12 at 6:52pm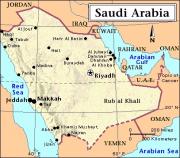 So I've been doing some research and investment banking in Saudi Arabia (Riyadh seems to be the place, possibly also Jeddah?) seems pretty interesting. Is there anybody who has experience with this who wouldn't mind dropping some knowledge on me? The Saudi Arabia stuff I found through search on this site is pretty sparse.
1) Do I need to know arabic, or is most business conducted in english?
2) Any particular firms in the area that wouldn't mind taking interns with past ibd - m&a & also corp fin/dev experience? I'd want to get a taste of working there before I even consider a long-term career there.
2a) If so, any firms you guys wouldn't mind sharing? I'm only able to find BB's and like one or two national firms.
3) Do they even want analysts?
Other details I've read up on seem pretty good, so I'm actually genuinely interested in finding out more about this as graduation approaches next year. I appreciate any information you guys have. Have a great weekend.
Best,
BankingWaffle
Cheers.