Stress / pressure at hedge funds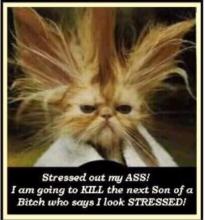 One of the things I hate most about banking is the high pressure / stress that gets put on the analysts from the rest of the team. I honestly think I could deal much better with external stress (ie: from markets), but I have a suspicion that hedge funds may even be more stressful than banking since a series of bad ideas would easily get you laid off. Can anyone working in the industry comment on their typical levels of stress and perhaps compare it to banking?
Thank you.
Upcoming Events
Feb 4 2016 - 8:00am

to

Feb 5 2016 - 8:00am

Feb 5 2016 - 8:00am

to

Feb 6 2016 - 8:00am

Feb 9 2016 -

5:00pm

to

6:00pm

Feb 10 2016 - 8:00am

to

Feb 11 2016 - 8:00am
Poll
Who do you want to win the superbowl?
Panthers
28%
Broncos
36%
Don't care
35%
Total votes: 193