Thain in Hot Water Again

O
Points)
on 2/23/09 at 1:49pm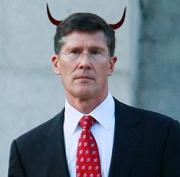 The former CEO of Merrill, recently canned by BofA bigwig Ken Lewis (yeah, cuz he's an angel) and publicly shamed for his extravagant spending of company funds on interior decorating in his office, remains tight lipped about the early payout of bonuses to his employees prior to Merrill's merger with BofA.
He's under the microscope for the decision to bump up the payment of millions of dollars in bonus money to December, conveniently before the merger went through and while his company was steadily losing billions, ultimately posting a $15 billion loss in just the fourth quarter alone.
Thain refused to answer when questioned by NY Attorney General Andrew Cuomo about the bonus acceleration. Apparently he's hiding behind BofA lawyers.
I know the hard working employees of Merrill who were lucky enough to get a bonus were happy (especially when most of us don't have a Snowball's chance in hell of getting one these days), but the way he did it was shady. And I'm sure the thousands of employees waiting for their pink slip as a result of this disastrous merger would tend to agree. I wouldn't mind seeing him go down. In fact, where's the dude who punched Fuld in the face when you need him?