WSO Finance Dictionary is Here
EN
Points)
on 12/12/11 at 8:15pm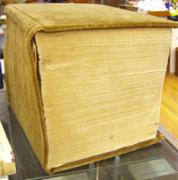 I wanted to take this time to announce one of the latest additions to our community: The WSO Finance Dictionary.
Believe it or not, one intern from the UK has built this entire dictionary from scratch. He has been working on all these terms (~400) over the last few months and has done an incredibly thorough job defining some of the most basic finance terms (and more complex ones) to help some of our new chimps find their way. While not all definitions are perfect and some may even have some errors, it was a hurculean task that should help WSO on a variety of levels:
1) You will notice now when you are reading in the forums or blogs, if a certain acronym or financial term comes up, it is likely linked to the definition. If you don't know what something means, it's a click away. Don't worry, no annoying pop-ups if you mouse over them.
2) Search Engine Optimization. As some of you may know, the majority of our traffic comes from Google, so having strong content and SEO helps us continue to grow our search traffic. If we can start ranking on the first page for some of these keywords / definitions, that should only help continue the strong growth of the community.
If any of you have corrections / edits or suggestions on new additions to the WSO Finance Dictionary, please include them here and we will do our best to fix any errors as quickly as possible. We plan to continue to add to this Dictionary over the years to make it massive, but thought we'd announce it now since it's up to 400 terms.
Thanks Sam,
Patrick