Pages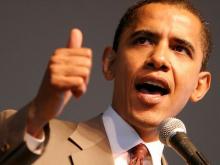 Heard on the radio that Obama has been throwing around the slogan "Yes We Did" since BP supposedly found a fix for containing the oil (of course in reference to his campaign's "Yes We Can"). So...
Before BP fix: BP must pay all costs, countless speeches pressuring BP to find fix (BP it's your responsibility)
After BP fix: "Yes We Did" (everyone the government and I saved the world!)
Am I missing something?
Upcoming Events
Feb 9 2016 -

5:00pm

to

6:00pm

Feb 10 2016 - 8:00am

to

Feb 11 2016 - 8:00am

Feb 14 2016 -

3:00pm

to

4:00pm

Feb 15 2016 (All day)

to

Feb 16 2016 (All day)
Poll
Who do you want to win the superbowl?
Panthers
29%
Broncos
37%
Don't care
34%
Total votes: 226