The Wall Street Oasis
Introducing...
140+ detailed video lessons and 29 modules across 3 jam-packed courses taught by elite practitioners  
To Help you Thrive in the Most Prestigious Jobs on Wall Street...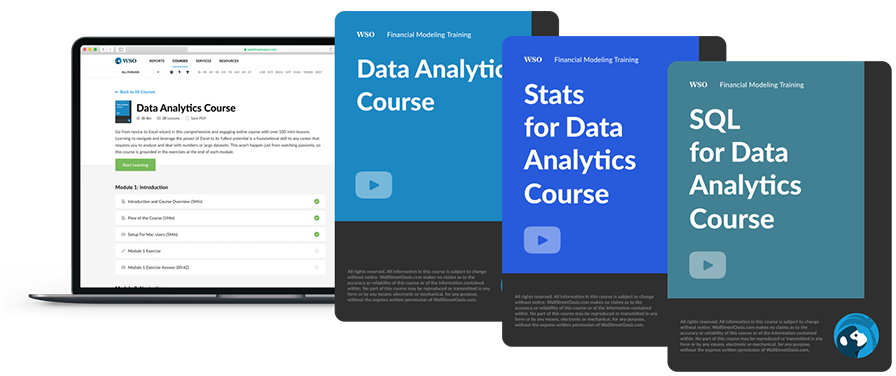 HERE'S JUST SOME OF WHAT YOU'LL GET IN THIS PACKAGE
Data Analytics Course (50+ video lessons)
In this course, we take you from a beginner in Data Analytics to an absolute Data Analytics master with over 50 lessons to help make sure you build a proper foundation for the more advanced data analytics courses. The foundational skills taught in this course ensures that you have the tools necessary to tackle any data questions you might have in the future.
Stats for Data Analytics (40+ Video Lessons)
In this course, we use 40+ video lessons and step-by-step walkthroughs to show you how to apply statistics in data analytics. With the foundational skills you learn in this course, you are ready to move on and tackle our more advanced statistics courses in Data Analytics where we expand on these principles, and SQL for Data Analytics where we learn to use code to pull data from large databases.
SQL for Data Analytics Course (50+ video lessons)
In this course, we comprehensively cover SQL with over 50 video lessons to help you reach mastery. We start from the very basics of SQL and build upon that basic foundation. Learning to utilize the full power of SQL is a foundational skill to any career that requires you to grab and analyze a large amount of data from a database. This course includes 6 coding challenges so you'll be ready for anything you face on the job.
Our students have landed and thrived at positions across all top Wall Street firms, including:

Video Preview
Grid items
Regression Analysis - Creating a Model
Understanding the Correlation Number
Intro to Connecting Tables
Don't Take Our Word For It
Hear from a few of our 57,000+ students...

[Feedback to come]
Get 3 Distinct Course Certifications
After completing each course, all students will be granted a WSO Data Analytics Certification for that specific course.   Use these certificates as a signal to employers that you have the technical skills to immediately add value to your team. 
Demonstrate that you have put in the work outside of university courses to make yourself more efficient and master the most critical modeling skills for success in finance careers.  Easily share to LinkedIn and other social media sites to strengthen your profile as a candidate.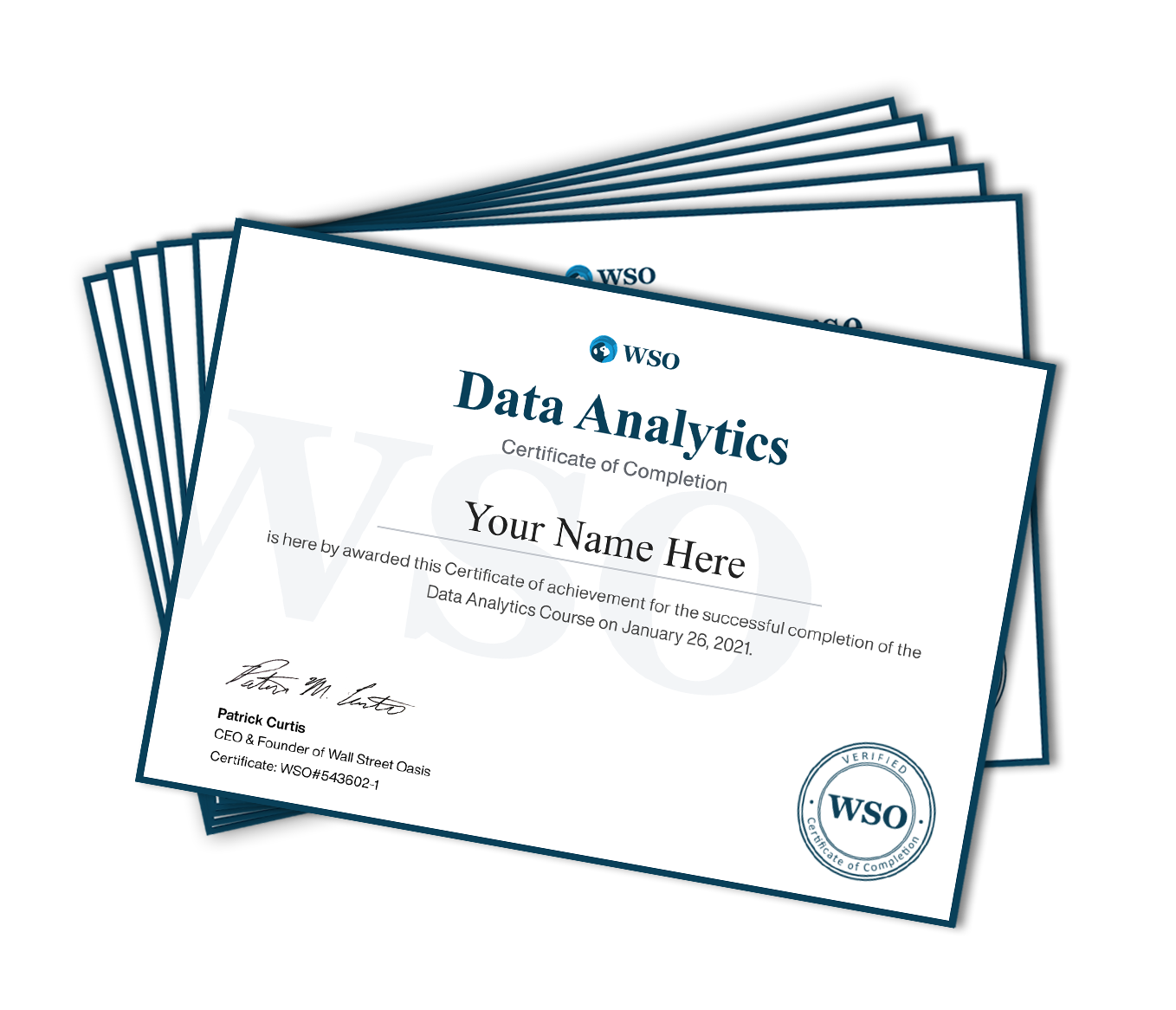 How Much is Your
Finance Career Worth?
What You Get

Value

Data Analytics Course

50+ video lessons across 12 Modules including a Statistics Bootcamp

$97

Stats for Data Analytics Course

40+ video lessons across 9 Modules taking you from basic Statistics to Regressions

$97

SQL for Data Analytics Course

50+ Lessons, 6+ Challenges, 3+ hours of video lessons to help you master SQL applications

$97

Bonus 1: WSO Video Library (12mo Access)

Access to 100+ videos of IB, PE, HFs industries (avg 3hrs of content each!)

$497

Bonus 2: WSO Company Database (WSO Premium) - 12 Month Access

24,681+ interview insights, 51,233+ exclusive salary and bonus datapoints + 20,127 company reviews...

$297

24 Months of Unlimited Elite Support from Actual Finance Pros

Have a technical question? Easily drop a comment into any lesson and get a response from a pro within 48hrs.

$197

6 Months of FREE Access to Macabacus

Full access to this Excel plug-in that makes financial modeling even easier, including tools for PowerPoint and Word.

$120

TOTAL VALUE

$1,402
1
Consider this your first investment
in a long career...
After all, you've likely already spent tens of thousands of dollars on college (and perhaps tens of thousands more on an MBA)... When you start your coveted finance job,
you'll be making well over $100,000...
...over $200,000 if you have an MBA...
And that's just the beginning of a long and very LUCRATIVE career that could easily net you millions...
---
We could easily charge thousands of dollars and your ROI would still be huge…
At a fraction of that price, the ROI is even better... When you do the math, it's a no brainer.
And that doesn't include the time you'd have to spend figuring all of this out and the hours of sleep these courses will save you. 
Even if you used the free info online, you'd still have to find it, organize it, vet it and test it to get it to work.
That would take months… and at that point, you may have missed your window.
The WSO Data Analytics Master Package gives you everything you need to be super-efficient and master financial modeling… quickly and easily.
But we're not going to charge you thousands...
$1,402
We won't even ask for half of that...
$701
Instead... 
Get Unlimited Lifetime Access To The  WSO Elite Data Analytics Master Package For 86% Off
$1,402
$197
...or get access today for only $77 (3 monthly payments)
Secure checkout
100% Unconditional Money-Back Guarantee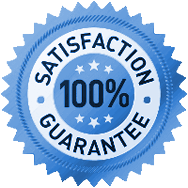 12 Month Risk-Free Guarantee
Your investment is protected by our 12-Month Risk-Free Guarantee -- the most generous in the market, BY FAR.  If, for any reason, you don't think the WSO Data Analytics Package is right for you, just send us an email, and we'll refund every penny. No questions asked. In short, you get a great return on your investment, or you get your money back. It's that simple.  Yes, we are that confident.  We know that if you put in the time, this package will dramatically improve your skills.