Andy Reid Finally Out in Philly
ST
Points)
on 1/1/13 at 7:30am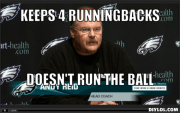 Happy New Year WSO! Holy smoke, this Black Monday was a scorcher. Seven head coaches and five general managers in the NFL got their walking papers yesterday, and some were a long time coming. After my miserable showing in the WSO Fantasy Football League this season, I was happy to see a couple of these clowns get the boot.
No one deserved to get the ax more than Philadelphia's Andy Reid, and I'm sure there was a collective sigh of relief in the City of Brotherly Love when that ax finally fell. I have a lot of buddies in Philly (and even more who are Eagles fans) who are just sick to their stomachs over the new and exciting ways the Eagles found to lose under Andy.
While Reid's firing makes total sense, can somebody explain the Jets' decision to me? GM Mike Tannenbaum is out, but Rex Ryan gets to keep his job? I don't get that one at all. The whole Sanchez/Tebow/McElroy disaster should have been enough to show Ryan the door. He's clearly lost control of that team.
On the plus side (for me anyway) Sean Payton signed a five-year extension to stay on with the Saints, so maybe we can put this stolen season behind us. I swear the NFL should have to compensate the Saints for lost revenue due to Goodell's incompetence. But then every team would be owed money after the replacement ref debacle.
Overall, it was a pretty disappointing season (with a few high points like Andrew Luck and RGIII and Peyton Manning's remarkable comeback). But hey, it's football, so it's still better than any other sport on the planet. And you have to love the meritocracy of it all. Win or die. Just ask Andy.
I like the 49ers to win it all this year. What do you guys think?
Tags: