Banks are Outsourcing Jobs....To Temps

AM
Points)
on 7/19/12 at 8:30pm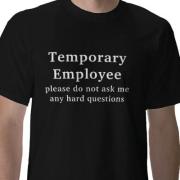 One of the things that I noticed while working at a BB during 2011-2012 is that although there were still full time hires from campus recruiting, their numbers were gradually diminishing while the amount of temporary contract workers was increasing.
There has been media coverage regarding this trend. But it mostly mentioned BO/MO staff as well as some FO positions that were more of a support role. My experience is also from a BO/MO perspective so unfortunately I cannot comment on what was going on within the business side.
It seems to me that during these times of cost cutting, especially when it comes to support staff, temporary employment makes very good sense. A lot of support staff work is dependent on volumes, so when trading/deal activity is high it makes perfect sense to hire temps so that when the volume starts to subside it is easier to let those employees know that their services are no longer needed, rather than firing a full time employee and taking away all their benefits and everything else they rely on to support themselves or their family.
I would imagine that front office positions are not as easily able to fill their ranks with temps when volume is high as for an FO employee the specialized skill sets needed, are not as easily available from temp agencies as a BO/MO role would require. Perhaps some of the folks from the FO side of things can comment here on what trends they have seen lately as far as temps are concerned, would be interesting to see how other departments are affected by this.