Cheesiest Movie Quotes

HF
Points)
on 3/4/12 at 4:59pm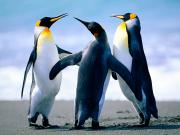 Happy Sunday, monkeys! Time for a few laughs.
You know there are always those parts in a movie (sometimes a truly excellent movie) that makes you raise an eyebrow and say, "Did he really just say that?"
This is a very fun video by the same creators of "100 Greatest Movie Insults," posted here previously. What's great is that no one will be surprised by the movies with the most entries: Star Wars Episodes 1-3, Batman and Robin, and pretty much any movie with Arnold Schwarzenegger in it. I must say, I'm amazed and dismayed to see only one quote from "The Room," but then again, that entire movie is a hilarious cheese-fest anyway.
It's hard to pick my favorite, but anything where the tone of the quote is just so angry that it is completely out of sync with the words being spoken makes me laugh. Hence, "Put. The bunny. Back. In the Box." Or, "STOP EATING MY SESAME CAKE!!!"
Enjoy!
The 100 Cheesiest Movie Quotes of All Time
""
Metal. Music. Life. www.headofmetal.com