Dubai's Boom and Bust

Points)
on 11/29/11 at 5:20pm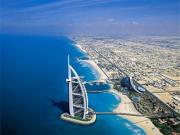 Although I began a blog on Dubai's pro's and con's, I instead started to tell a story about Dubai's boom and bust. So now, my intention is to describe Dubai's background and transition into a pro's and con's piece later this week. My hope is that if this sort of mindless boom were ever to develop again, someone, somewhere would remember Dubai and retell its story.
-----
Although a lot of Dubai's boom investment came from foreign sources, Dubai had a ton of cash even prior to the FDI. The city's royalty owned plentiful rights to oilfields, but eventually sold all of it in order to finance their dream city. Before the construction began, the only visible wealth was Sheiks who lived in lavish compounds and drove around in fleets of bombproof G- Wagons.
Initially, Dubai's rulers had their fundamentals in order. For one, there was no income tax. They built a huge port and surrounded it with an even larger tax free zone. Corporate regulation was loose, and customs inspections were, and still are, easy-going. They laid out 5-lane wide highways, and built a decently sized airport. A beautiful canvas was created; the only thing missing was the paint.
I lived in heart of Jumeriah Beach from 1997 to 2002. In that time frame, I feel like I woke up one morning and witnessed a small city on the gulf instantly turn sand into steel. To further illustrate my point, between 2001 and 2006, about 25% of all the world's construction cranes were located in Dubai. Today, the majority those cranes are gone, and have left many buildings unfinished.
During a time defined by excess and greed, Dubai was the decade's poster boy. Financial firms located regional headquarters in a noisy financial district, celebrities bought into man-made islands like the Palm, and to bring everything full circle, Russian prostitutes arrived by the boatload. In a part of the world where countries vigorously oppressed vice, gorgeous escorts surrounded financial analysts nightly; all while Dom Pérignon endlessly flowed to the worlds best DJ's.
Ultimately, a manic desire to build the world's tallest building was the straw that broke the camel's back. In the midst of the global financial crisis, Dubai requested an $80 billion dollar bailout from Abu Dhabi, a more frugal, neighboring city. Abu Dhabi had a list of compliance requests, but some where at the top of that list was a slap in the face. Abu Dhabi said that if Dubai wanted to complete the world's tallest building, that was OK, they just could not name it "Burj Dubai". Instead, the monstrosity would be renamed Burj Khalifa, after Abu Dhabi's leader, Sheik Khalifa bin Zayed al-Nahyan. To Dubai's glorious rise, nothing could signal a more shameful end.