Knight's Algo Gets Off the Chain
ST
Points)
on 8/2/12 at 7:30am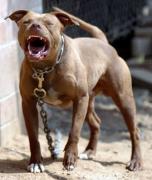 When I saw the news yesterday that Knight Capital was directing customers to "trade elsewhere", my initial reaction was, "Jesus Christ, not another one stealing customer funds!?!" So I was almost relieved to find out that it wasn't theft but the rather more mundane occurrence of a high-frequency trading algorithm that got off its chain and started tearing shit up. It's a big mess for Knight, and in the half hour the algo ran amok before animal control put it down it appears to have affected more than 140 stocks.
The one that cracked me up was Wells Fargo preferred (NYSE:JWF). The stock normally trades 39,000 shares a day, but for some reason Knight's computers had a hard-on for it, because it clocked over 4.2 million shares traded in the first half hour and got pummeled 10%. Oops.
It's pretty easy for the anti-social cynic in me to see the humor in something like this, but in reality it isn't funny. These kinds of occurrences, which are happening more and more frequently, really undermine investor confidence in the markets. That, in turn, erodes liquidity, which is the main argument I always hear in favor of high-frequency trading.
Knight's shares dropped more than 20% after traders saw extreme volume spikes in a number of stocks, including preferred shares of Wells Fargo (JWF) and semiconductor company Spansion (CODE). Both stocks, which see roughly 100,000 trade per day, had changed hands more than 4 million times by late morning.
Anyway, here's Charlie Gasparino's take on what happened. Early in the morning he put forward the idea that it could have just been a "fat finger" fuck-up. Now he's hinting that Knight could have been hacked, which is a much much bigger deal:
And for those of you interested in the intricacies of what actually happened on an almost trade-by-trade basis, here's some excellent analysis:
What should be done about this? I see a couple of major potential problems here:
Either a rogue algo went batshit and wreaked a bunch of havoc on the broader market, or
Somebody hacked Knight and turned the algo loose
Neither scenario is good for the market.