NYC Impressions
IB
Points)
on 8/1/12 at 10:30am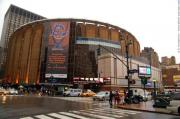 Good morning all.
So being the hillbilly that I am, I've never actually been to New York City. "Liek, oh my gawd, that is so totes unbelievable" -- yes, I know. Now this recently changed, as I went to school with a million New Yorkers (even though the school was _not_ in the Northeast), and one of my close friends now lives in NYC and got married.
So a few weeks ago, I make the trek up to NYC from my "crickets chirping 24/7" Southern semi-rural place of existence.
I think too many people played it up far too much for me.
Now I lived in Chicago for a few years so I am somewhat familiar with the large American city. Chicago is, however, a very Midwestern place. Even though it has that smattering of hipster culture, if you hang out on the North Side you are generally running into guys and girls who went to Big 10 schools and Chicago was their Mecca. It's a fine place, but I always felt like it lacked a little in terms of intellectual life -- literally everyone's obsession with the Cubs contributes to this a little bit, and I can't quite pinpoint why people so desperately love the worst team in the history of baseball, but I digress.
Bottom line: I went to New York under the impression that it would be a bigger, dirtier Chicago with a little more culture.
When I landed in LaGuardia, I hopped on the bus through Queens, followed by the train to Manhattan, where I got off at the most touristy place on earth: Times Square.
Needless to say, in the first 10 minutes of walking around, I heard people speaking maybe 15 different languages, which was interesting in and of itself. The spot is, as you all know, extremely touristy, but I didn't exactly "know where to go" until my friends arrived, all of whom were familiar with the city. I visited the Empire State Building, walked by the JPM headquarters, and it took me and my friend who is a BB analyst a good hour and a half to decide where to eat lunch simply because there were way too many options. Surprised he had that much time on a Saturday, but that worked out nicely.
I spent the rest of the weekend around the Upper West Side, which was actually a really awesome spot and though I don't ever envision living in New York City, I wouldn't mind living there. I liked the blend of artistic influence and intellectualism that seems to be prevalent in the UWS. I liked the fact that it's next to Central Park (duh), which was a really really awesome place to walk though, and nothing Chicago has compares to Central Park. The other parts of NYC that I had seen seemed boring to me: Midtown, Financial District, etc. -- just a bunch of people walking around and a bunch of office buildings. Nothing spectacular. But the UWS had that nice urban-residential community feel that is both a little bit slower-paced and more friendly, at least based on my experiences.
Everything I ate in NYC was top-notch, and because I love food, this was a really nice addition to my trip. My friends took me to some more obscure spots, a few places where there was literally no room to stand inside because the establishment itself was so small, but they all still served food that was off the chain (and with out of this world prices -- ouch!!!). I had perhaps the beast peanut butter pie I will ever eat in my life, and I for the life of me don't remember the name of the place, but it was somewhere north of Chelsea.
The girls aren't as attractive as they are in the South or Midwest. Not elaborating on that.
One thing that really stuck out to me was when I was taking a cab back to my friend's spot at 3:30AM on a Sunday morning (this was after the wedding) and I still saw thousands upon thousands of people in the streets going out, shopping, eating, etc. This is something that is characteristically missing in Chicago's culture because everything closes at 8pm and while there are spots that are open 24/7 or close very late at night, they're more separated so you get that eerie "it's night time so everyone is asleep" feel. Being able to go out and do whatever you want at 3:30AM seems really cool to me.
Overall folks, I'll give it to you guys, you have a pretty good city. I personally wouldn't want to live there because it's too expensive, crowded, and would honestly be overwhelming to me after a few years (maybe even a few months), but it's an awesome place to visit.
What do you guys think about NYC? I was only there for two days, but is my assessment fairly accurate? Plan on staying forever or leaving after a few years? And, please, let's NOT start another Chicago vs. NYC thread.
Thanks for reading.
"An intellectual is a man who takes more words than necessary to tell more than he knows." - Dwight D. Eisenhower
Check out my blog!