S&P Downgrades Humanity; Monkeys on the Rise
ST
Points)
on 6/14/12 at 8:00am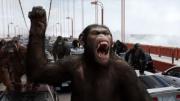 The following will come as no surprise to the denizens of WSO, but the rest of the human race will be shocked to learn that S&P has downgraded the entire species to BBB while simultaneously upgrading primates to investment grade. Apparently the move has been a long time in coming, and the apes' superior handling of their daily affairs gave them a late leg up on humanity.
"We have downgraded Human beings from the earlier AAA rating to BBB level and upgrade Monkeys from the Default level to AAA rating. With this, humans have ceased being the best and the most favored creation of God, a belief widely held for thousands of years by the humans without any documental proof," a press release from S&P declared.
"They are a bunch of useless living beings," Manbandar Singh, an S&P analyst concluded about the human beings, "With no predators around and a monopoly on the natural resources, we'd have expected them to do better. But they have fucked up major time."
Fucked up "major time" indeed.
In light of this ratings move, I'm thinking of lobbying Patrick to restore my simian ranking on WSO, as the banana economy is clearly going to punish those of us over 10,000 points with widening credit spreads and tightening liquidity. The whole "wearing pants" thing pretty much sucks anyway.
Side Note: The slightly imperfect language with which the article is written is the reason pitchbook production isn't outsourced to India.
Yet.