SVS #3: The Job Hunt

PE
Points)
on 6/4/12 at 4:30pm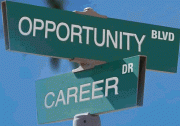 Hey guys, sorry I missed my post last week, but I have a valid excuse…I made the jump to the buy side! That's right – I've got a much-needed week off, and then I'll be diving into the thick of things.
Why did I make the move after only a year? Well, it's a combination of 4 factors:
Getting contacted by recruiters makes you feel special!
I started to get pinged by recruiters about six months into my first year. I respectfully declined their invitations to chat at first, but once I had a decent amount of transaction experience under my belt, I started taking their calls. I threw them all into Excel, kept track of who I'd spoken to and when, and tabled the idea of transitioning for a while. Around March, however, I heard through the grapevine that a number of firms had started their on-cycle recruiting for summer 2013 already. I realized I needed to get my ass into gear.

In banking, you are the bitch in the transaction, and it gets old fast.
In a transaction process, you are not only at the mercy of your client, but you are also at the mercy of every buyer. This can become especially irritating when, for example, you enter exclusivity with an international buyer and your data room fucks up all your uploaded documents. It is much more fun to be one of those interested parties calling the shots rather than the middle man sitting on conference calls at 3am.

Finding a job while you are already employed is a VERY different experience than doing so while still in school.
Ironically, you discover once you fully commit to finding a new job that it is very much like a sell-side M&A process. You're basically selling yourself to all potentially interested parties, and more often than not, they are ALL interested at least to the point of having a 1st round interview. Unlike in undergraduate interviews, you have a honed skill-set and relevant work experience to speak about. Interviewers are interested in the transactions you have worked on, and they expect you to have a degree of industry knowledge that is an order of magnitude higher than anything you would have had while still in school.

The grass is always greener on the buy side.
I was recruiting for summer 2013 positions, but one of my options was for an immediate start. The interviews with that particular firm advanced rapidly, and I would say that that is reflective of the interview process in general. I went from starting my recruiting process in mid-March to accepting my offer last week – absolute craziness how quickly the process went. Also, things get really interesting when you negotiate your compensation and have multiple interested parties. In that vein from a pure compensation standpoint, making the jump now was a no-brainer.
All in all, it was a wild ride filled with many "dentist" appointments, "dinners" with potential clients, and sick days, but in the end I feel it will have all been worth it. Feel free to PM me with any further questions about my process.