The Scream Fetches $120 Million
ST
Points)
on 5/3/12 at 8:00am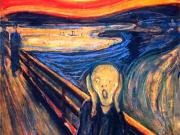 Edvard Munch's The Scream set a new record at auction yesterday, bringing a winning bid of $119.9 million at Sotheby's in New York. The winning bidder has not been identified and did all of his/her bidding over the phone. By my calculation (based on Sotheby's published auction rates) the sale paid a commission of nearly $14,500,000, bringing to total paid for the painting close to $135 million.
That's a ton of dough for a piece of art. The previous record holder was a Picasso which sold for $106.5 million in 2010. I'm not a big art guy, so I can't say whether it's a good investment or not. But in my experience, everyone knows what they like and owning The Scream (the only one of four copies still in private hands) would be pretty effin cool.
Plus the piece is somewhat emblematic of our times. If you look closely at it, you'll see that the subject of the painting is a recent college graduate, and the shadowy figures in the background are clearly student loan collections agents.
Never ones to let anything to do with big money slide, Occupy Wall Street stationed themselves outside the auction house to protest the sale (naturally). What a bunch of douchebags.
Outside of Sotheby's, there was excitement of a different kind, as demonstrators protesting the company's longtime lockout of art handlers waved placards with the image of "The Scream" along with the motto, "Sotheby's: Bad for Art." Many in the group — a mix of union members and Occupy Wall Street protesters — even screamed themselves when the Munch went on the block. (Munch's work was an apt focus for the group, said one protester, Yates McKee: "It exemplifies the ways in which objects of artistic creativity become the exclusive province of the 1 percent.")
Whatever, dude.
Any way you slice it, this is an ass-ton of money for a painting and I hope the new owner is happy with it. It makes better sense to me than some of the ridiculous figures I see thrown around for Jackson Pollocks and other really abstract pieces that just look like the product of a paint-flinging acid trip (relax, Pollock fans - I realize that's my own artistic ignorance showing but let's face it: Jackson Pollock was no Robert Wyland.)
What say you, monkeys? Is $135 million a good deal for this piece? I think you'd be hard pressed to find a more iconic piece of art outside the Mona Lisa. So maybe it is a good deal. More to the point: how nice would it be to have $135 million to drop on a piece of art?