The WSO awards – Let's make it happen!

Points)
on 3/18/11 at 9:19pm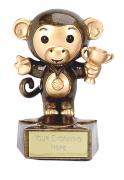 A few months back, HarvardorBust suggested that we should do an annual WSO Posters Awards night to recognize those who have either helped, or set back the community in whatever way and while a lot supported the idea, after much fanfare it pretty much just died.
Well, I thought we should resurrect the matter to see how it works out this time around.
First off,
The Judges:
I agree with what Gekko21 said, assuming that they're up to it; a nominations committee of around 10 to 20 of the top posters should be gathered. Who they are and how they'll be chosen I leave to you.
The voting system:
Once again Gekko21 was right on the money on this.
"In addition to the panel discussing amongst themselves, ordinary users may post suggestions to the panel. Once the panel decides on the top5 for each category, everyone gets 1 vote regardless of if you are on the panel."
I think this is great, but if you have other suggestions it would be very much welcomed.
The Host:
It would've been awesome if Blastoise or Happypantsmcgee could do this, but then again this would lead to formatting problems. Initially I thought this would be a great segment for NSFW, but that would also mean unnecessary work for the guys so I think we should keep things simple. Unless, of course they're up to it.
And lastly...
The awards:
Most Thought Provoking Post
King of the Monkey Trainers (most helpful to new monkeys)
Best Rant of the Year
Troll of the Year
Top post about the Culture of Wall Street (kind of like a Monkey Business type thing--what working on WS is really like)
Most Bananas in a year
Most Silver Bananas in a Year
Most Monkey Shits of the year
WSO poster of the year (like Best Actor)
Best WSO Thread of the year
Best Trading Thread of the year
Best Banking Thread of the year
Craziest true story---not really about posters, but it would be nice to honor the Jeffrrey Chiang or KPMG moments that happen every year.
Most likely never to break in to finance
Most likely to become a BSD
Most SBs received on a single thread
Funniest troll (or post)
Most politically incorrect
Worst thread of the year
Those were simply the awards suggested, if you would like to add or subtract anything from the list then feel free to suggest.
We're already way behind for a 2010 awards night, so lets get this ball rolling.
Who do you want as our judges?
What else do you want to see?
Let's get this show on the road people.
Have a good one.
People like Coldplay and voted for the Nazis, you can't trust people Jeremy