Two Years, $2.7 Million in Losses, and a $1 Billion Buyout
O
Points)
on 8/30/12 at 3:30pm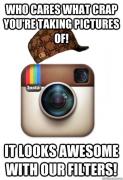 We've been tremendously hard on Facebook here on WSO, from hammering its business model, to thrashing the IPO, to even wondering if its worth using in the first place. Let us not forget one of Facebook's highest profile moves over the past year:
The acquisition of Instagram.
Now, I'm not normally one to pile on, but I think that recently revealed information about Instagram's financial situation only adds to the doubts around Facebook's business model and erodes Zuckerberg's image as a web 2.0 visionary.
Two Years: Instagram, the mobile filtered-photo social network with over 40 million users, was founded less than two years ago. When Facebook announced its intentions to acquire the fast growing social network in April, Instagram had only 13 employees.
$2.7 Million: At a hearing in San Francisco to determine whether or not to allow the acquisition to go through, Kevin Systrom, Instagram's CEO, gave a group of regulators an overview of the company's finances. So, what does 40 million users in two years amount to financially? $2.7 million of losses and $50 million of venture capital financing.
$1 Billion: As we all know, Instagram agreed to terms with Facebook to be acquired for a combination of cash and shares of Facebook stock. To be more precise, the offer was $300 million of cash and 23 million shares of stock. At the time of the deal, it amounted to a total value of about $1 billion. Today, it's closer to $700 million, a steep drop to be sure, but still an absurd value for a mobile social photo network.
Now, granted, one can make the argument that Facebook needed to take out a budding competitor in the mobile space, but how on Earth can the price tag be justified? A billion dollars for a free mobile app with zero revenue? It seems like complete insanity.
And here's the kicker. A regulator asked Systrom how Instagram made money...here's what he had to say:
That's a great question...We do not.
He added that the company had considered various means of generating revenue, but "nothing came of it."
As someone who spent my Analyst days working with entrepreneurs and other hard working businesspeople who've worked for decades to build real businesses and see exits to the tune of tens of millions of dollars, I find this entire thing incredibly disheartening. We're talking about a company that only employed 13 people, generated no revenue, and seemingly had no idea how to. It's almost as though the Instagram team and its VC-backers were banking on winning the lottery in the form of an acquisition, and Facebook gave it to them.