Would You Sell An Equity Stake in Yourself?
Points)
on 7/22/12 at 3:30pm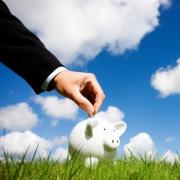 I want to share a topic off the Internet that discusses an alternative way to pay for higher education.
Last week, a blogger (on another site) referred to the idea of equity financing for college students. So basically, instead of obtaining student loans and potentially getting into debt to pay off tuition, students would sell equity stakes in their future earnings and pay a percentage of their annual income to their investors.
This idea is derived from the perception that humans can be viewed as 'start – up' companies: both need capital for growth and are uncertain about future earnings. Start – ups usually have the choice between equity financing and debt financing and many choose to finance through equity due to the large potential of earnings. The logic then goes, since start – ups have the choice between debt and equity, why can't humans also receive outside equity financing their future?
The suggestion for what is termed "Venture Capital investments in humans" or "Human Venture Capital" is actually not new. Nobel Prize economist Milton Friedman first conceived the idea in 1945. His reasoning was that education is a risky investment and loans are not best suited for such investments since interest rates must be extremely high to offset the risk. However, private financing of education would be a viable option if investors "participated in a student's financial success the same way that they participated in a company's success if they had acquired an equity stake in it."
There have been several references to this proposal of human venture capital throughout the years in media outlets such as newspapers, journals, and magazines as a possible route for financing college. In the 1970's, Yale actually tested out a variation of the concept when it initiated a program called Tuition Postponement Option, which offered income – contingent loans. In this program, the university had a vested interest in their students, which allowed them to take out loans in return for paying a percentage of their future annual income as a cohort to the university. This program failed miserably and was later ended due to the cohort setup so repayment for a graduated class became a huge burden. However, many proponents of equity financing believe that using private investors as the source of capital would work.
Whether private equity financing for humans could work is very uncertain. There are many arguments against this practice though. First of all, there may be an ethical issue: for a student to sell an equity stake in themselves, they would have to enter into a contract with the investor to set up a payment plan for x number of years. Would that make them an indentured servant?
Then, there is a legal issue: What happens in the event that a student defaults on their promise to pay part of their income?
Finally, as Josh Barro of Bloomberg points out, the effectiveness of venture capital financing could be hindered by adverse selection. That is, while most students strive to graduate college and make lots of money, they are the only ones who know about their future plans and could mislead investors about their earnings desire.
While I personally think this idea of equity financing shows promise, the issues raised are definitely major concerns. What do you guys think about the idea?