Augusta National Gender Discrimination, CEOs have few comments
IB
Points)
on 4/9/12 at 12:31am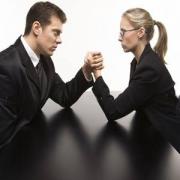 I'm sure you've all read about this topic in some form over the last few days. If you've been living under a rock, the short and sweet version is that it is tradition for IBM's CEO to wear the club's green blazer at the tournament, but IBM's CEO is a woman, and women are not allowed to be members of the Augusta National Golf Club.
Now some CEOs of related companies have issued statements that they have no comments on the matter and that questions should be relayed to Augusta directly. One might argue that this particular instance of gender discrimination is trivial, but it does bring up a larger point that we are familiar with as a society. I don't mean to start a fire, but there hasn't been a discussion about this topic yet, and I think it's worth talking about.
Edward Barbini, a spokesman for Armonk, N.Y.-based IBM, said "IBM has no comment" when asked about the company's Masters sponsorship and whether the statements by Obama spokesman Jay Carney and Romney had changed its position. Mark Siegel, spokesman for Dallas-based AT&T (T), said "we are not commenting on this." Alan Jeffers, a spokesman for Irving, Texas-based Exxon Mobil, said "that question should be directed to Augusta. We don't have any comment."
Steve Ethun, a spokesman for the Masters Tournament, also declined to comment and wouldn't say which executives attended the event in Augusta, Georgia.
Traditionally the top executives of corporate sponsors, including CEOs Rex Tillerson of Exxon Mobil and Randall L. Stephenson of AT&T, entertain customers at hospitality cabins near the 10th hole. IBM also has a nearby cabin where its CEO usually greets clients. Non-members, who don't wear green jackets, must be accompanied by a member to visit the course or play a round.
Understandably, this is tournament and club tradition (whether one agrees with it or not), is a private affair of the organization, and in this manner, there isn't anything legally objectionable to the rule. Overall though, I have to say that, as the Bloomberg article poins out, it's unsettling to have a bunch of CEOs praising diversity at their respective companies sit by the wayside on this one.
What do you guys think? Should Augusta change its policies? Will it ever?
"An intellectual is a man who takes more words than necessary to tell more than he knows." - Dwight D. Eisenhower
Check out my blog!