No Industry Selected - No Status Selected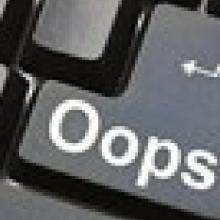 Attempted to cold email one of the alumni (VP at the firm), used the email format on WSO and turned out emailing the wrong person with the same last name and same first name initial (a senior MD). first time, that guy didn't reply, then I followed up with him and he forwarded my resume to the campus recruiter and the recruiter implicitly told me I emailed the wrong person. Am I screwed?
Mod note (Andy): while we're on the topic, what's the worst email disaster you've had (or heard about)?
The WSO Advantage - Investment Banking
Upcoming Events
Nov 24 2015 -

5:00pm

to

6:00pm

Nov 29 2015 -

12:00pm

to

1:00pm

Dec 2 2015 - 8:00am

to

Dec 4 2015 - 5:00pm

Dec 2 2015 -

7:00pm

to

8:00pm

Dec 7 2015 -

7:00pm

to

8:00pm
Poll
Long term, which career path interests you the most?
Accounting
1%
Asset Management
10%
Commercial Banking
1%
Consulting
4%
Corporate Finance / Strategy / Development
9%
Entrepreneurship
6%
Equity Research
3%
Fintech
2%
Hedge Fund
18%
Investment Banking
9%
Investment Advisor / PWM
1%
Private Equity
16%
Prop Trading
2%
Real Estate
6%
Sales & Trading
3%
Venture Capital
6%
Other Finance Role (academia, non-profit, government, legal, etc)
1%
Other - Non Finance
2%
Total votes: 1164