No Industry Selected - No Status Selected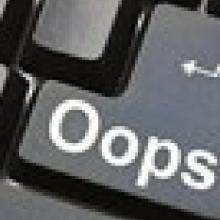 Attempted to cold email one of the alumni (VP at the firm), used the email format on WSO and turned out emailing the wrong person with the same last name and same first name initial (a senior MD). first time, that guy didn't reply, then I followed up with him and he forwarded my resume to the campus recruiter and the recruiter implicitly told me I emailed the wrong person. Am I screwed?
Mod note (Andy): while we're on the topic, what's the worst email disaster you've had (or heard about)?
Upcoming Events
Feb 5 2016 - 8:00am

to

Feb 6 2016 - 8:00am

Feb 9 2016 -

5:00pm

to

6:00pm

Feb 10 2016 - 8:00am

to

Feb 11 2016 - 8:00am

Feb 15 2016 (All day)

to

Feb 16 2016 (All day)
Poll
Who do you want to win the superbowl?
Panthers
29%
Broncos
36%
Don't care
35%
Total votes: 198