First thing I bought with my sign-on...
Pages
Investment Banking - Generalist - 2nd Year Analyst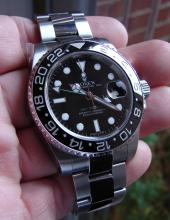 So I know there have been posts like this before, but what the heck...
I just decided on an offer, and signed the contract today... and went and spent half of my sign on on a Rolex.. I had my eye on the Milgauss, but in the end went for the GMT II...
I was just curious to see how others spent their sign-on or celebrated landing a job?
I know it seems foolish to spend so much cash before even starting, but the way i see it, buying a watch is a pretty good way of remembering a good moment and rewarding yourself after a gruesome job hunting process..
Thoughts?
The WSO Advantage - Investment Banking
Upcoming Events
Nov 29 2015 - 8:00am

to

Nov 30 2015 - 8:00am

Nov 29 2015 -

4:00pm

to

5:00pm

Nov 30 2015 -

8:00pm

to

9:00pm

Dec 2 2015 - 8:00am

to

Dec 3 2015 - 8:00am

Dec 2 2015 - 8:00am

to

Dec 4 2015 - 5:00pm
Poll
Long term, which career path interests you the most?
Accounting
1%
Asset Management
10%
Commercial Banking
1%
Consulting
4%
Corporate Finance / Strategy / Development
9%
Entrepreneurship
6%
Equity Research
3%
Fintech
2%
Hedge Fund
18%
Investment Banking
9%
Investment Advisor / PWM
1%
Private Equity
16%
Prop Trading
2%
Real Estate
6%
Sales & Trading
3%
Venture Capital
6%
Other Finance Role (academia, non-profit, government, legal, etc)
1%
Other - Non Finance
2%
Total votes: 1213