Back to Mentor Search
Venture Capital

3rd+ Year Associate

Ascension Health Ventures

Excellent

22

Sessions Completed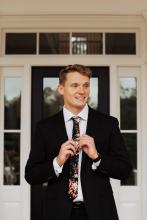 Currently works as an investment associate with a strategic venture fund.

Previously served as an investment analyst with New Holland Capital and as an investment banking analyst in SunTrust Robinson Humphrey's Financial Sponsor Group.

Graduated from the University of Florida and earned a Master of Finance (MSF) from Washington University in St. Louis


WSO Podcast
Check out his podcast here


WSO AMA
Take a look at this AMA here
Expertise
Investment Banking

Hedge Funds

Venture Capital
About the mentor
Washington University in St. Louis

University of Florida

San Francisco

New York
Reviews for this mentor
He was flexible and made it very easy for us to connect at a time that worked for both of us. He took the time on the front end to grasp the situation I needed advice with and together we came up with a plan of attack. He had experience in areas I lacked and provided a new perspective. He was able to provide some clarity on a few avenues I didn't realize were available to me and was also candid enough to point out my blind spots on ideas I had brought to the table. I would 100% recommend him to anyone that is looking for guidance in their careers.
Why Anonymous?
Some of our mentors are forced to be anonymous due to firm policies or personal preference. Anonymity allows us to i) source the best mentors from the top companies in the world ii) allows them to be honest and give you amazing insight into the industry and firms.
How It Works
All of our mentors are actual professionals. You can be sure that we will match you with an expert in your target industry and that they have gone through strict WSO training to ensure a smooth experience.