5 Things a Dog Can Teach You About Trading
ST
Points)
on 5/11/13 at 8:00am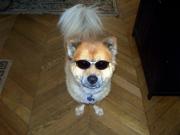 Mod note: "Blast from the past - Best of Eddie" - This one is originally from March 2011 .
That handsome guy to the left is my boy Hudson. As you can probably tell, he's a pretty cool customer. We rescued him after Hurricane Katrina, and he'd been living on his own for a month in the flooded city. When I found him, he was about two-thirds dead; he was starving, dehydrated, and somewhere along the way he'd been shot in the leg. He didn't trust me at first so I had to trap him, which is always a risky thing with a wild and desperate dog. I guess he just didn't have any fight left in him though, because he just sort of collapsed in my arms and let me carry him to the truck. He's been by my side ever since.
At one point in the movie Wall Street, Gordon Gekko advises Bud, "If you want a friend, get a dog." Truer words were never spoken. But dogs aren't just great for companionship, as I've learned from hanging out with Hudson the past several years. Dogs have innate instincts that would make them successful traders if only they had opposable thumbs. Let's face it: open outcry pits sound like a dog pound most days. Here are 5 things a dog can teach you about trading:
1) Scratch the surface and do three laps before lying down.
Hudson sleeps in the same spot every night. He'll crash there several times a day for quick naps as well. The funny thing is, it doesn't matter if he was in that spot just a half hour before, he takes his time to scratch the floor, sniff around, and turn a few circles before he'll lie down there again. He's obviously very sensitive to changes in his environment.
As should every trader be. The necessity of proper research cannot be overstated. It doesn't matter if you exited the trade at a profit just a half hour ago and now the signals are indicating you should re-enter. Before doing so, make sure there haven't been any changes to the trading environment. On a more long term basis, never enter a buy and hold position without properly researching the company or asset class. You should be able to feel comfortable lying there for a while without the specter of nasty surprises.
2) If you can't eat it or screw it, IGNORE IT.
There is so much noise in the market today, that it can be hard to determine what you should listen to and what should be ignored. Take a page out of Hudson's book. If it doesn't involve eating or getting laid, he won't give it a second glance. This is the type of focus you need when trading.
If a given external factor doesn't improve your position or detract from it, it should be ignored with extreme prejudice. It is easy to get hung up on all the market minutiae these days. Information swirls around our heads 24/7. Focus on what gets you paid. Everything else is just distraction.
3) Don't get hung up on the past.
Dogs have an amazing capacity for living in the present. There are millions of (unfortunate) cases where a dog has been horribly abused and then gone on to be a perfectly loving family pet for those who rescue him. Hudson's a great example: after what he survived you would think that he'd get freaked out by storms. He doesn't really. Whenever he hears lightning and thunder, he just comes and finds me and sits next to me and presses his body into my leg.
Likewise, the elevator in my building has a big, heavy swinging door that you pull open to get inside. The door closes automatically behind you. This is not a big deal if you walk on two legs and can shove the door open with your butt if it closes too fast. It is a much bigger deal however, if you walk on four legs, have a long tail, and are prone to lollygagging. It's a lesson he only had to learn once.
He still gets in the elevator every day and doesn't give it a second thought. He does step lively, however. As humans, we have a tendency to allow past to become prologue far more than necessary. Nowhere is this more evident than in the market. Once a trader gets burned on something that should have gone his way, many will never try it again.
Far better it is to just learn from your mistakes and move on. Leave the baggage in the past. Sometimes shit happens. Next. Analyze a given situation based upon its individual merits, and try not to bring your past failures into the equation. The less emotion you bring to your trading platform, the better. Be a dog and live in the moment.
4) Never be too proud to roll over and wet on yourself.
Hudson plays with a French Mastiff named Victor (think Hooch from Turner & Hooch). Despite being as ugly as sin itself and enormous to boot, Victor is one of the sweetest dogs you'll ever meet. I used to love to watch them play when Victor was a puppy because he had a puppy mentality, which meant Hudson was in charge because he was the older alpha.
Hudson used to lord this over Victor a bit. I think he got a kick out of the fact that he could make this 125-pound dog roll over on his back and submit (Hudson weighs about 50 pounds). Thing was, I knew the day would come when Victor would finally do the math and then Hudson's goose would be cooked. Sure enough, once Victor got to be about a year and a half old, the tables turned.
By then he was tipping the scales around 150, so he was three times Hudson's size. To his credit, Hudson didn't give up the alpha male title without a fight, but he was way overmatched. Once he accepted the inevitable, Hudson rolled over on his back and let Victor put his mouth on his throat (a major sign of submission in the dog world). Then they carried on as friends from that point forward.
The lesson here is that there will always be bigger dogs in the market, and you're a damn fool (and soon to be broke) if you think you can beat them. Never be afraid to take a judicious loss. Part of the discipline of trading is knowing when you're beat. It is stupid and emotional to hang onto a losing trade in the hopes it will turn around. It might work once in a while, but long term you're killing yourself.
There is no shame in taking your licks and coming back the next day smarter and better prepared. Successful trading is a marathon, not a sprint. Never be too proud to admit your analysis was wrong. Those who cut losses and run away live to trade another day.
5) If enough other dogs have crapped there, it's probably a good place to crap.
Far be it from me to ever advocate the herd mentality when it comes to trading (though it seems to have worked pretty well over the past year - meh). But the one aspect of trading where it's good to get by with a little help from your friends is in the realm of short selling. Here's why:
I live near a dog park where all the neighborhood dogs go to do their business. Most people are pretty good about cleaning up after their dogs because all of our kids play in the park as well. So there's not a huge amount of dog bombs laying around the park. Thing is, all the dogs know where to take a dump anyway. Hudson (and my other dog Marley) will sniff around until they find the area where all the other dogs have gone, and then they'll make their deposits.
And so it is with short selling. Short sellers take advantage of the almost universally true axiom that where there's smoke, there's fire. If it appears that a company might be cooking the books, for example, traders will begin to notice the short interest growing in that stock. When you see large increases in the short interest in a stock or commodity, it's probably a good bet to short that stock or commodity.
A herd of buyers can steadily push a stock's price up over time (as we've witnessed this past year), but a herd of sellers can absolutely crater a stock's price overnight. If you see a bunch of the right people taking a crap on a given stock, it's probably a good place to take a crap.
Hudson wouldn't lie to you.
Tags: