Best April Fools Pranks
ST
Points)
on 4/1/10 at 12:33pm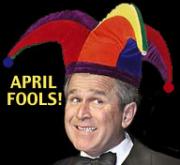 I'm a big fan of April Fools Day (I know, shocker, right?). Believe it or not, the French take April Fools Day pretty seriously. All day long, I've seen people walking around Paris with paper fish on their backs, a la the "Kick Me" signs of old. That's the tradition here: one running gag, hanging a fish on someone, and that person becomes poisson avril (April Fish). Kinda lame, but kinda funny all the same.
In the States, however, April Fools is elevated to an art form. Pranks run the gamut from scary, to funny, to really elaborate and creative, to downright lame (like Google announcing they were changing their name to Topeka this morning).
So I went in search of the best April Fools Day pranks of all time, and this is what I found. Some of them are pretty epic, like George Plimpton's 1985 Sidd Finch classic. Wall Street has had its share of pranksters as well (and I'm not just talking about the kind that help sovereign governments conceal their true financial condition from their EU partners -- Lloyd, you practical joker, you!).
So let's hear it. It's been too long since we've had a solid prank post. What are some of the best you've heard of, seen, or been involved with?