I am Harding, Hear me Roar: Keynesian Economics Fail

O
Points)
on 6/15/12 at 7:00pm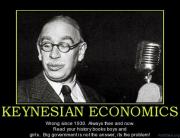 I am Harding, Hear me Roar: The 1920s and the Failure of Keynesian Economics
20th century America began with the decline of Classical liberalism, the natural rights, limited government, free market political and economic philosophy of the American founders. That perspective was replaced in the minds and hearts of the political and intellectual elite in America by progressive interventionism, the philosophy of government social engineering to cure alleged defects of the free society.

The first three presidents of the 20th century (not counting Garfield) were open progressives: Teddy Roosevelt, William Howard Taft, and Woodrow Wilson. They gave us a variety of interventionist legislation and government growth. And war. Lots of war, and conquest, fueled by progressive visions of American empire and US moral superiority.

There was an interlude, however, of nearly a decade, in which Americans had second thoughts and backed away from progressive ideas and policies.

Warren Harding became president early in 1921, in the midst of a far worse economic contraction than Barak Obama inherited in 2009. From January 1921 through the spring and summer of 1922, Gross National Product fell by nearly 24%. The unemployment rate rose from 5.2% in 1920 to 11.7% in1921.

Harding was not a man of progressive mindset. Indeed, he had been elected in public reaction against two decades of such policies. He continually decried high tax rates, government waste, and interference in the private sector.

He meant it. He appointed Andrew Mellon his Treasury secretary and with the help of Congress they began what became a series of large-scale reductions in both tax rates and spending. Federal expenditure declined from $6.3 billion in 1920 to $5 billion in 1921, then to $3.2 billion in 1922, an absolute decline of nearly 51% in just two years.
Harding's Revenue Act of 1921 raised the personal income tax exemption for married couples and reduced all income tax rates. The top rate fell from 74% to 58%. Federal revenue collected fell from $6.6 billion in 1920 to $5.5 billion in 1921 (partly due to the contraction), and then down to $4 billion in 1922 (despite a rapid economic recovery).

That meant the federal budget ran a surplus of $300 million in 1920 (Wilson's last year), $500 million in 1921, and $800 million in 1922. The surpluses were used to pay down federal debt.

What happened to the recession? It ended with an extremely rapid expansion in 1922. Real GNP rose by an astonishing 14.6%, reducing the unemployment rate to 6.3% that year. In 1923 Real GNP rose another 11.7%, reducing national unemployment to a mere 2.4%.

The Harding fiscal policies were not the only reason the huge 1920-21 contraction ended so quickly. The recession began with a discount rate increase and money supply contraction initiated by the Federal Reserve in January 1920. That reduced aggregate demand for goods and services, and prices began falling.

Harding's crucial action here was inaction. He refused to interfere with the natural stabilizing mechanisms of the market (unlike both Hoover and Roosevelt in the 1930s).

Prices fell relative to wage rates, raising real wage rates to unemployable levels: thus the contraction. But then dollar wage rates fell relative to product prices, reducing the real wage back down to employable levels, bringing recovery.

In August of 1923 Harding died of pneumonia and his Vice President Calvin Coolidge became President. Like Harding, Coolidge was no man of the interventionist left. He retained Mellon as Treasury Secretary and, winning re-election by a large majority in 1924, they continued reducing tax rates, in 1924, 1926, and 1928.

They also continued holding spending down, running budget surpluses and paying down federal debt every year. From $25.5 billion in 1919, the National Debt had been reduced to only $16.2 billion by 1930, a total reduction of nearly 36.5%. Per capita real output and income rose very rapidly over the whole of the 1920s despite two trivial recessions, in 1924 and 1827. The "Roaring Twenties" were well named.

Then came the great depression, initiated, like the 1921 contraction, by a deliberate Federal Reserve monetary contraction. In 1936, six years into the Depression, John Maynard Keynes published his General Theory of Employment, Interest and Money.

All that was original in Keynes' theory boiled down to a proposition that a market economy was naturally unstable, but the government could manipulate total demand and stabilize the economy near full employment by simply altering the state of its budget.

If the economy had too little production and excess unemployment, the government could run a deficit, spending more than its revenue. That would raise aggregate expenditure, increasing output and employment. If inflationary pressures existed at full employment, the government could run a budget surplus, thus reducing aggregate demand until the inflationary pressures ended. Running a surplus at or below full employment, however, would contract output and employment further.

The entire decade of the 1920s was a refutation of Keynes' claims before they were even made. If budget deficits are expansionary and surpluses are contractionary, then why did the 1920-1922 recession end when Harding not only ran federal surpluses, but increased their magnitude? And why was real output growth so rapid and unemployment rates so low thereafter though the government ran even larger surpluses?

A major difference between the roaring '20s and the depressed '30s was that the interventionist Hoover and Roosevelt administrations massively increased spending and ran sequential budget deficits as specific anti-depression policies. In1938, just two years after Keynes gave theoretical sanction to these policies, Henry Morganthau, Roosevelt's own Treasury secretary, wrote the following in his diary. "We are spending more than we have ever spent before and it does not work . . . After eight years of this administration we have just as much unemployment as when we started . . . and an enormous debt."

Having failed to learn from history, we are, circa 2008-2012, repeating it.