Invasion of the Job-Snatching Robots
O
Points)
on 8/24/12 at 10:14pm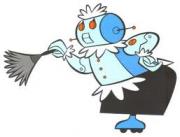 The robots are taking our jobs! As the New York Times pointed out a few days ago in an article entitled, "Skilled Work, Without the Worker," by John Markoff, robots are able to work longer hours than their human counterparts while complaining less and contributing more. The article begins with a comparison between a factory in China and a similar electronics factory in the Netherlands:
At the Philips Electronics factory on the coast of China, hundreds of workers use their hands and specialized tools to assemble electric shavers. That is the old way. At a sister factory here in the Dutch countryside, 128 robot arms do the same work with yoga-like flexibility. Video cameras guide them through feats well beyond the capability of the most dexterous human.
Do we welcome this changing of the guard, if you will? I, for one, can't wait! The article focuses on low skill level workers, as the following example illustrates:
Many industry executives and technology experts say Philips's approach is gaining ground on Apple's. Even as Foxconn, Apple's iPhone manufacturer, continues to build new plants and hire thousands of additional workers to make smartphones, it plans to install more than a million robots within a few years to supplement its work force in China.
Foxconn has not disclosed how many workers will be displaced or when. But its chairman, Terry Gou, has publicly endorsed a growing use of robots. Speaking of his more than one million employees worldwide, he said in January, according to the official Xinhua news agency: "As human beings are also animals, to manage one million animals gives me a headache."
I can envision a time in the not-too-distant future when high level jobs will be given to robots as well. Imagine if teachers were robots. If I wanted to learn organic chemistry or stochastic calculus, rather than attending a live class or watching a video, I could make use of my own personal teacher-robot, whom I could take home with me and program to repeat the same lesson over and over until I understood it.
Actors and actresses wouldn't be replaced by robots. They would be replaced by computer generated images of themselves, images that never grow old and never have a hair out of place. As the technology improves, I'll find it more difficult than ever to realize that I'm not looking at a flesh-and-blood human being in the movies or on television. The theatre would be another matter, however. Robots could star on Broadway and never flub a line.
This is our future. Presidential elections would pit one stubborn robot against another. Used car salesmen would be robots--with an extra robot thrown in with each car purchase to be the designated driver when the owner gets tipsy. And a robot would play third base for the Yankees, fielding line drives effortlessly and running out every ball, no matter where it's hit. He wouldn't need a $30 million contract; he would get by on a few thousand a month.
I only hope that all the displaced workers will have enough time to prepare for the imminent loss of their jobs...and that those of us who base who we are as people on what we do for a living are able to find another source of fulfillment. The time to start preparing is now.