KAYAK Finally Going Public
ST
Points)
on 7/16/12 at 7:52am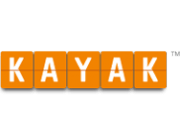 It's been a long time coming, but travel website KAYAK is finally scheduled to IPO next week at a value of nearly $1 billion. The stock is set to bow in the $22-$25 per share range after several fits and starts on the way to public offering over the past couple years. 2011 revenues clocked in at $225 million, with $9.7 million of it dropping to the bottom line, giving the company a Price/Sales ratio of 4.43:1 (reasonable by today's standards) and a Price/Earnings ratio of roughly 100:1 (unfortunately, also reasonable by today's standards). KYAK is the proposed symbol and the stock will trade on NASDAQ.
I'm a fan of KAYAK, but you won't see me queuing up to buy the IPO. Even if the valuation weren't too rich for my blood (it is), the company is far too dependent upon the whims of the companies which provide them data. The contracts they have in place with their participating airlines (to provide schedule and fare data) can be terminated with 30 days notice and, even worse, the airlines can decide to just stop paying them for the business they send and KAYAK has no recourse. With the consolidation in the airline business these days, the trend seems to be toward the Southwest Airlines model where the airline handles all its own bookings. That does not bode well for KAYAK (and the bevy of similar travel aggregaters).
An even scarier scenario is that all their airline partners play nice and continue to provide all the data KAYAK needs to stay in business, but then Google yanks the rug out from under them (as Google has been well known to do).
You see, 55% of the search results KAYAK displayed in 2011 were provided by ITA software - which Google acquired in 2010. KAYAK's contract with ITA expires on on December 31, 2013, and Google has already begun to roll out it's own travel aggregater based on ITA software. I can't imagine they'll be too keen to keep a competitor in business when that competitor essentially depends upon a service Google can easily shut off.
This IPO, and to a larger extent the underlying stock, is for gamblers only. Like I said above, I love the company and some of the innovations they've introduced over the past couple years, but they've got some hurricane clouds on the horizon and you'd have to really be willing to roll the dice to go big on this one.
What do you guys think? Is the deal overvalued? Will the IPO work out or will it flop? Am I right and the risks are far too great, or am I just being a sissy?