Kevin Rose: Always a Bridesmaid
ST
Points)
on 7/19/12 at 7:30am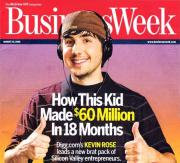 I was sufficiently shocked last week (as was much of the Internet) when I heard that Digg was sold for $500,000. I mean, wasn't that figure missing a few zeroes? 500 GRAND??? As in, house money? But it was true. Sure, there were some ancillary transactions worth a few million, but that was mostly moving money from the right pocket to the left.
I sat there wondering what Kevin Rose must be thinking. 500 grand. That's a borderline insult. If I were running Digg I would sooner shut it down altogether than take 500 grand for it. Especially considering it almost sold for $200 million back in 2008. I don't have much of an ego, but I don't think I could've wrapped my mind around a $500,000 sale of something that was once worth so much.
But that's kinda the story of Kevin's life. And the story is absolutely fascinating. Love him or hate him, he is emblematic of the Web 2.0 era and he's a stark illustration of what can happen when you let a creative run a business. For all his success as an angel investor, the companies he himself started sorta flopped. Business Insider did a fantastic profile on him here, and you should definitely read it.
I've got nothing but respect for the guy, because his design skills are off the charts. He also has a keen eye for talent, which is why he's been hijacked by Google Ventures. The force of his personality is such that he can raise money at will without even having a product. He raised $1.5 million for Milk just by telling investors it was going to be really cool. Milk was acquired by Google a year later for $18 million after having produced a single mobile app which was promptly killed by Google upon acquisition.
Despite his somewhat sketchy history as a founder, his history as an investor would make Buffet drool. He's an angel-level investor in companies like Twitter, Zynga, OMGPOP, and Foursquare. His exits on those deals alone have been and will continue to be staggering.
Every time I think about Digg, though, I can't help thinking about what it must have felt like to grow a company from nothing to the point where Google was ready to pay you $200 million for it. Imagine what that must be like. $200 million at age 31. Imagine the plans you'd have for that money: the homes, the travel, the things you'd do to help your family and friends, the generational wealth that would probably persist for at least a century. Immortality, in other words.
Then imagine the money vaporizing hours before it was in your hands. That's what happened to him. Google got a look under the hood and decided at the 11th hour (literally) that they were walking away from the deal. What must that feel like? What would you do? I know what I would do: I'd max out all my credit cards on an absolutely epic weekend and then kill myself. Lucky for Kevin, he's not me.
However he managed to get over essentially losing $200 million, the sale of Digg for $500,000 had to re-open some old wounds.
I wonder what keeps this guy going.
Tags: