Wall Street Hiring Is Ramping Up
ST
Points)
on 7/6/10 at 5:10am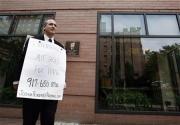 Are the good times returning to the Street? It might be too early to celebrate, but at least hiring is picking up in a big way. Almost 7,000 banking jobs were added in New York alone from February through May, and candidates are now facing multiple offers - something we haven't seen in significant numbers since 2008.
It looks like banks were holding back on hiring because they weren't sure how tough the financial regulation would end up being. Now that the feds have put forward a largely impotent regulatory package, it's game on for Wall Street recruiters.
"Candidates are now getting multiple offers, and companies risk losing their desired candidates if they don't act quickly enough - and that's a real change," said Constance Melrose, managing director of eFinancialCareers, which has seen a 75 percent rise in investment banking jobs posted on its website from a year earlier.
And it's not just analyst monkeys who are benefiting. Headhunters are working overtime to poach talent from one bank to another, with UBS and Nomura reportedly offering 7-figure guarantees to more senior guys. It's starting to look like the worst is over, at least for now.