Weekend Wars: Search Function vs. Work Function

Points)
on 1/9/11 at 5:22pm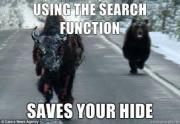 Dear Monkeys,
I am sorely disappointed in you...Well, not really. I don't care all that much. But I haven't ripped anybody a new one in a while and I do feel like hurling a few gentle insults while dispensing some useful advice to those who are willing to take it.
Join me on a journey, together we shall explore...
The Magical...The Mysterious...The Majestic
The Search Function!!!
You see guys, the search function here on Wall Street Oasis (once upon a time), was indeed a tedious tool. Too many pages, too much irrelevant info, too hard to sort. But now, it works pretty darn well. I suggest you use it... until you find what you are looking for.
This has apparently gone over the heads of many of you who didn't realize that this post
applied to you.
Instead of chastising, I will try to point out something you guys may not be thinking about. Though I have said it before, let me say it again:
No idea's original, there's nothing new under the sun...it's never what you do, but how it's done.
The vast majority of the questions asked on a daily basis, can be searched. No your situation is not that unique!
Somebody has already asked that exact question. Likely within the last week or two.
It isn't that I don't enjoy answering whether you should wear a suit to a networking event instead of sweats and flip flops or how you can shortcut your way into PE after a 1.8 GPA your freshman year and no financial industry experience...but...
There is another side to this...
Real World Implications
If you can't find what you're looking for when it is right there waiting for you...how can you be counted upon to perform difficult tasks, while working long hours in a demanding environment?
Yes, I know. You're excited and you're anxious. You're young, dumb and full of... well you really want to get in the game, I understand.
However...
Banking, portfolio management, equity research or any of the plethora of gigs you may land in finance all require attention to detail, not to mention the patience to scour through tons of information.
If you're not competent enough to go through a few dozen or even a few hundred posts, why are you then competent enough to land a high paying job that every other monkey out there would trade their tail for?
Understand this, there is a sea of people out there just like you. They all want the same thing and the winners...
Know how to use the search function!
This is not just a WSO thing for you mechanically minded monkeys, this concept is meant to be taken and applied to all of your life's affairs and activities.
There is a virtual ton of info and resources at your disposal.
Use them.
There is no quicker way to look like a fool than to ask a question which was answered yesterday, while claiming it is unique and special today.
For those of you banging your head against the wall about networking failures and unreturned phone calls/emails, perhaps it is time to look in the mirror...
and do some homework before showing up to the test.
That's what every interaction in the adult world is kiddies.
A test.
When you don't use the literal and metaphoric search functions available to you...you wind up looking stupid, when in fact...
You're just being lazy and feeling entitled.
Get over yourself.
Work harder...
That is how you'll get hired...that is how you will thrive...that is how you will survive.