Milton Friedman Speech

Points)
on 11/15/10 at 11:13am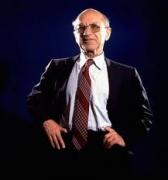 I understand these videos are long, but they are well worth it. Donohue tries time and time again to stump Milton and he not only provides excellent answers, but answers that could not be delivered more eloquently. It is shocking that nearly all of the topics covered in this debate are still being discussed today. I lost track of the number of times I said "Fuck Yeah!"
Props to Happypants for bringing them to my attention.
Enjoy!
"Greed, in all of its forms; greed for life, for money, for love, for knowledge has marked the upward surge of mankind. And greed, you mark my words, will not only save Teldar Paper, but that other malfunctioning corporation called the USA."