NYC Cost of living is bad? Try living in SF

O
Points)
on 8/21/12 at 3:00am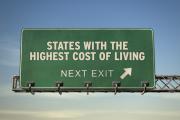 I have seen a couple of different forum topics posted recently complaining about the cost of living in NYC. As a recent SF transplant beginning a FT analyst stint, I was floored at the cost of living in SF. I fully expected to find a nice, 2br apartment for 2600 MAX in the areas I had been recommended to search (marina, nob hill, russian hill, north beach). After finishing my 3 month corporate housing stint, I have yet to find a decent 2br apartment within the city in an acceptable area for less than 3200. I haven't even seen a 2 br in the tenderloin (a rough area) for 2600. The worst part is that even the expensive places are being gobbled up. I went to a showing last weekend and I was one of 15 other potential tenants (all qualified with great jobs and credit history) looking for somewhere to live.
I would be curious to hear some stories/advice from other SF analysts and associates about how much they pay, location, how many roommmates, and how they went about finding a reasonably priced place.
Here's the thing. If you can't spot the sucker in the first half hour at the table, you are the sucker.