Osama Bin Laden is Dead
?
)
on 5/1/11 at 10:43pm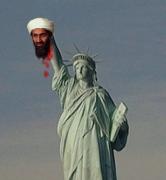 Who is watching the news? Obama is about to deliver a statement in the White House briefing room. John King from CNN said that the announcement is about Osama Bin Ladin's death.
According to John King, the U.S has the body of Bin Ladin.
So what's next?
No one would remember the Good Samaritan if he'd only had good intentions; he had money as well.
+100