Wall Street Oasis Rocks! What Do You Say Gang???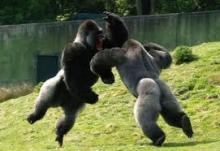 Ok, I have been an avid user / reader for a long time, and I think at the end of the day, this site is a great site. An incredible resource and a tour de force for all of us. And I'd like to say "hats off" to Patrick and all the key and positive posters on the site. You've really helped me in some key thought processes and advanced my thinking. I think the site has helped others more, as I already had a good clue.
But, all in all, I don't see enough people giving props to Patrick and WSO in general, so here is a huge fucking shout out and I'd like to see people pile on with praise to all involved in making this a great site and keeping it that way!!!!!!!!!!!!!!!!!!
Fuck all the shitters and trolls out there who try to ruin what it a great site. Power to the great posters and moderators and to Patrick himself who is a god to many investment bankers and would be investment bankers of all shapes and sizes!!!
Keep up the good work!
The WSO Advantage - Investment Banking
These 6 FREE Financial Modeling Lessons
Can Help You Land Your $100k+ Dream Job
Our Fun Excel Training and Challenge Contest
DCF Modeling, Tons of Free Templates & Video Tutorials
Valuation Lesson on Trading Comps
Cash Flow Modeling and more!
I would normally sell this for at least $200, but we're offering it for free as a sweet bribe to join our community of 350,000+ members. See you on the inside!
Lazy? Join us and get the 6 free lessons with 1 click below!
6 Free Financial Modeling Lessons...and More.
Enter e-mail to get our Modeling Tutorials (Worth $200+)
Upcoming Events
Oct 7 2015 - 12:00pm

to

Oct 9 2015 - 9:00pm

Oct 7 2015 - 12:00pm

to

Oct 8 2015 - 12:00pm

Oct 7 2015 - 11:00pm

to

Oct 8 2015 - 1:30am

Oct 7 2015 - 11:00pm

to

Oct 8 2015 - 12:00am
Poll
Long term, which career path interests you the most?
Accounting
0%
Asset Management
7%
Commercial Banking
1%
Consulting
5%
Corporate Finance / Strategy / Development
8%
Entrepreneurship
7%
Equity Research
4%
Fintech
2%
Hedge Fund
19%
Investment Banking
9%
Investment Advisor / PWM
1%
Private Equity
18%
Prop Trading
1%
Real Estate
5%
Sales & Trading
2%
Venture Capital
5%
Other Finance Role (academia, non-profit, government, legal, etc)
1%
Other - Non Finance
2%
Total votes: 427