What Websites,Vlogs,Twitter,Blogs,etc. do you follow? Making the most of the Internet!
Points)
on 8/29/10 at 4:40am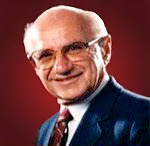 I'm trying to put together a list of websites, reviews, YouTube accounts/vblogs, twitter streams, forums, e-newsletters and blogs to follow. Areas of interest are business, economics, finance (especially financial markets), politics and anything genuinely funny, witty or educational in general.
Not just to get the latest news, but to learn from and to stimulate my brain. For example, I currently follow the two prominent classical liberal think thanks in Australia, Knowledge@Wharton, Peter Schiff's YouTube vblog, Keith R. McCullough's former "Virtual Hedge Fund" investment blog, Reserve Bank of Australia's media releases, publications, speeches and statistics, etc etc. Basically anything interesting, educational and/or stimulating.
So what/who do you keep track of online? I want to make the absolute most of all the great information/resources available online.