What is Investment Banking? 5 Steps to Understand the Industry
An investment bank is comprised of three main areas: investment banking division (IBD), sales and trading (S&T), and Asset Management. The large global banks typically offer all three services, with smaller banks usually focusing more on the investment banking division side covering advisory and mergers and acquisitions (M&A).
define investment banking division
The investment banking division is sometimes referred to as corporate finance and is broadly split into 2 sectors, products and industries. The purpose of both is to provide advisory on transactions, mergers and acquisitions and to arrange (and sometimes even provide) financing for these transactions. This area of banking is the subject of the popular book "Monkey Business: Swinging Through the Wall Street Jungle".
what do investment bankers do?
When companies seek out an investment banking relationship, they are interested in a financial partner that can guide them through the complicated landscape related to financing a business and managing its assets. Investment bankers offer executives strategic planning advice. They often advise company executives about the best times to make a public offering, sell a large company asset, or acquire another business.
Investment Banking Product Group Overview
Investment banking product groups are broken down as such: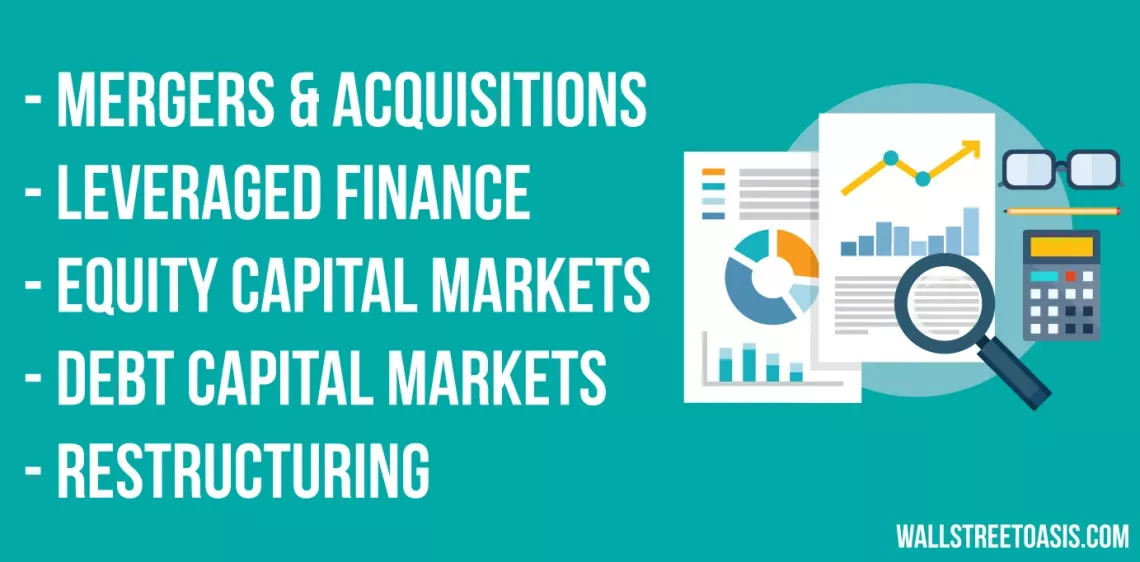 Mergers and Acquisitions (M&A) - advisory on sale, merger and purchase of companies
Leveraged Finance (LevFin) - issuance of high-yield debt to firms to finance acquisitions and other corporate activities
Equity Capital Markets (ECM) - advice on equity and equity-derived products (IPOs, shares, capital raises, secondary offerings etc.)
Debt Capital Markets (DCM) - advice on raising and structuring of debt to finance acquisitions and other corporate activities
Restructuring – improving the structures of a company to make it more profitable or efficient
IB Industry or Coverage Groups
Industry groups focus on one specific industry (Technology & Media & Telecoms, Financial Institutions, Energy etc) but carry out all the different kinds of deals for firms within that sector. For example, the Financial Institutions (FIG) team will work with clients on raising debt, IPOs, acquisitions etc, but will only work with clients within that sector.
Some firms are known for being particularly good at certain sectors, for example Goldman Sachs TMT (Technology, Media & Telecoms), Morgan Stanley M&A, and JPMorgan LevFin.
Check out the video below to get another perspective.
What is the Importance of Relationships in IB
A primary advantage for accessing the services of an investment banker is the relationships and contacts that an established investment bank can offer its clients. The principle role of an investment banker is to introduce lenders to companies in need of capital. Investment banks regularly cultivate business liaisons with venture capitalists and private investors.
The hierarchy within the investment banking division is very well defined. The actual role names may differ from region to region and bank to bank, but all follow the same general pattern.
Analyst – this is how you will enter banking once you have completed your degree. The usual way to be offered a place is to complete an internship with the bank at the end of your junior year at school and then to receive a full time offer to come back at the end of your final year, although it is also possible to apply directly for a full-time job. Typically the analyst does all the 'grunt' work on projects such as valuing companies, creating models, putting together pitch books etc. Analysts are well known for working 80-100 hours per week but are well paid for it.

Associate – if you have been working in finance for several years and/or gone to a business school for an MBA, you can break into investment banking as an associate. It is also possible to be promoted to associate directly from analyst level if you stay on with the bank for a 3rd year as an analyst. Your work as an associate will be focused on coordinating the work of the analysts to meet the expectations of the vice president. Associates tend to work as much as or slightly less than analysts , but are paid more for it.
Vice President – vice president is where the managerial work starts to kick in. Your role is to make sure that the work your analysts and associates produce is what your senior vice president and managing directors want. There is a lot of client interaction and the work becomes more client relationship orientated. At some firms this position is called 'Director'.
Senior Vice President – this is basically a mixture between vice president and managing director. The focus is both on executing deals and client relationships and what you actually do will depend on the needs of the group at the time. Also known as 'Executive Director'.
Managing Director – MD is the highest level you can achieve within a bank without becoming a group head or higher (CEO, CFO etc). Almost all of an MD's time is spent on client relationships and sourcing new clients.
Hours
See Investment Banking Hours - What to Expect? for more info.
Preparing for Investment Banking Interviews?
The WSO investment banking interview course is designed by countless professionals with real world experience, tailored to people aspiring to break into the industry. This guide will help you learn how to answer these questions and many, many more.