Deal Fatigue is a phenomenon that develops during negotiations when one or more parties start to experience frustration, helplessness, irritability, or even anger due to the transaction's pace. The pace is slow, and the negotiations are prolonged.
This can be successfully managed by being aware of the symptoms and taking steps to reduce frustrations early on. Unfortunately, this dilemma is practically impossible to prevent in a complex transaction; the more complex a transaction is, the higher the chances of this occurring. 
The two main obstacles to agreements today are bad communication and a lack of harmony between the parties. These elements could occur before the start or during the negotiations.
As mentioned, the causes of this phenomenon vary from deal to deal, yet some primary causes usually lead to this issue. For instance, time, prolonged negotiations, transparency, process, and communication contribute to the issue. 
Despite the ongoing boom in wealth management M&A activity, most individuals in these markets are taking part in a transaction for the first time.
While certain aggregators and larger registered investment advisors (RIAs) continue to grow their businesses through strategic acquisitions, most current mergers are motivated by complementary competencies that help both companies accelerate their growth and sustainability.
Although a common interest exists in most, if not all, of these market transactions, there is usually a stronger pull from each side of a deal to gain additional benefits.
This behavior isn't necessarily bad. Still, it could create a phenomenon called deal fatigue. Regardless of experience, navigating the entire deal process requires a lot of patience, communication, time, and knowledge.
This fatigue affects businesses on both sides, as negotiating and documenting the transaction frequently takes longer than anticipated.
This raises questions about the cause of this phenomenon and how it can overshadow good deals. Understanding the causes and effects of the phenomena discussed is crucial to overcome business-related issues in the local and global financial markets.
It is important to understand the details of this fatigue and the elements that contribute to it. Contributing factors often cause conflicts in other contexts. For instance, one of the elements that cause this issue is the lack of process.
Elements contributing to deal fatigue could vary depending on the context of the scenarios or the situation. Nonetheless, repetitive or usually observable elements exist in scenarios and situations where this phenomenon occurs. 
Many of the elements that cause this phenomenon result in miscommunication, which is harmful as it can create confusion surrounding the task. The following elements are the contributing factors that cause deal fatigue.
Lengthy transaction times
The time it takes to conclude an M&A transaction often correlates with deal weariness. The fatigue will spread among the parties as a transaction drags on without a distinct and defined path to a conclusion.
It can cause the transaction to fail if left unchecked. After the parties agree on and sign the term sheet/letter of intent (LOI), deals typically fasten. A calm follows this as due diligence and documentation slowly advance.
The parties must make the most of the initial momentum to carry the process to its successful conclusion.
However, parties can become irritated if they feel pressured to complete a deal quickly, so it's important to strike a balance between addressing any issues and completing the transaction quickly.
If more than three months pass between an LOI and the signing of the final agreements contracts, there is a significant risk that deal weariness would hinder the transaction. 
Note
Remember that this is not a hard-and-fast rule and that deal weariness can be effectively avoided for much longer periods with the correct M&A facilitator. It's critical to be conscious of and take steps to control the time component in an agreement.
Prolonged negotiations 
All M&A transactions are built on negotiations. Therefore, the arrangements' conditions will control how the transaction will turn out and how the parties will interact going forward.
Spending the time required to negotiate the key contract issues that will be mentioned in the LOI and later incorporated into the final deal documents is crucial. The negotiations of the parameters should end once the LOI is signed.
We frequently observe parties renegotiating agreement terms as the legal paperwork is being prepared. It can be extremely frustrating and lead to tension and mistrust between the parties to utilize the drafting of the legal documents to try and get a second chance at previously agreed-upon deal terms.
We also need to realize that prolonged decision in the business world has other possible risks related to the time available to seize an opportunity. Our business world and financial markets today have a fast pace, and sometimes we must decide at a similar pace.
Lack of progress
An M&A transaction has a lot of moving pieces. Therefore, the dealmakers must define the M&A process early on and establish a predicted timeline. Even though following a schedule isn't always possible, reviewing it and making changes as needed is crucial.
A well-thought-out timetable 
provides the M&A transaction with a structure 
decreases distractions
lowers the chances of unforeseen obstacles
clarifies the situation for all parties. 
Deal weariness is less likely to occur when there is a plan because the schedule keeps dealmakers focused and prevents the process from becoming too demanding.
Lack of progress can have an impact not only on a transaction but also on any sort of operations conducted by companies. It can impact the progress of projects, production, and the overall performance of companies.
Hence, pre-defined and well-structured process stages will translate to better results in a transaction context or operations. 
Communication between involved parties
Deal weariness frequently results from inadequate or bad communication between the parties. Communication is essential throughout an M&A transaction, starting from both sides, getting to know one another, and developing trust.
After signing an LOI, it is advised for parties to schedule regular weekly check-in conference calls. Even though the parties will frequently need to speak more often, establishing scheduled check-in calls keep everyone informed of the transaction's progress.
Regarding the most effective ways to communicate, parties should not rely entirely on email to distribute and debate key deal points or other vital deal considerations. 
Note
Email is undoubtedly a practical means of communication, but many deals have fallen through due to badly written or misunderstood emails.
Since back-and-forth email correspondence can slow down the pace of the negotiation, it is frequently worthwhile and more effective to coordinate times for call-based interactions.
Transparency 
The opportunity for parties to learn more about one another for their mutual advantage is known as due diligence. However, this is not the time to withhold facts out of concern that it may lead to unfavorable transaction conditions or alter the dynamic between the parties.
Wealth management is valuable to others due to client connections. The "product" being sold is the relationship based mostly on the client's faith in guidance. M&A wealth management is valid. The company merging or being bought out must have faith in the other party and data.
When a side isn't honest, irritations can become deal fatigue and eventually put a transaction at risk. This is especially true when the lack of transparency is found just weeks or even days before the planned closing date.
The concealed material would not have been a deal breaker in some cases. Still, it wasn't provided because one of the parties had an unreasonable concern that it would alter the planned conditions stated in the LOI or otherwise harm the agreement.
Before the start of negotiations, there could be indications that some issues might challenge this deal for various reasons. For instance, an individual could be entering a negotiation with someone with a reputation for prolonging negotiations to land better deals.
This could harm the overall transaction as both parties will try to secure a better deal. With prolonged negotiations and extended time, the phenomena could occur.
Recognizing and dealing with tiredness symptoms as your transaction develops is critical. These are manageable if discovered and handled quickly. Frustration from one or both partners is the first and most visible indicator.
While some frustration is normal, especially when negotiating crucial deal issues, it should pass quickly and smoothly. However, deal weariness may be around the corner if the irritation persists.
Deal tiredness should not be disregarded if there is a lack of commitment to seeing the transaction through. On the contrary, it's frequently a sign that a buyer or seller doubts the deal when they start to move slowly or abruptly stop communicating.
Other signs of deal fatigue include, but are not limited to, parties becoming disengaged, feeling helpless, making irrational decisions, irritation with the process, and mistrusting the other party and the other party's position.
Parties involved in transactions can observe the symptoms of deal fatigue if they occur and maintain a close check on the transaction with the assistance of experts and professionals in the matter. With assistance, you can stop a minor annoyance or uncertainty from becoming and ruining your business agreement.
Deal fatigue can be prevented or managed using various strategies. These include clearly defining and assigning tasks, setting attainable/realistic goals and timelines, having dedicated party project managers, and holding weekly status meetings.
Many of these strategies can worsen the issue if not used correctly and appropriately.
Deal management can be challenging; thus, it is in everyone's best interest to hire a seasoned, non-advocate M&A facilitator to provide professional advice throughout the M&A process.
Note
Employing a knowledgeable M&A facilitator aids in maintaining the parties' attention on the tasks required to complete the transaction and offers the parties an impartial third party throughout.
Even though parties may try to handle an M&A deal independently, this expert will show their value when difficulties emerge, as they almost always do.
An experienced M&A facilitator can quickly handle the problem to get the parties back on track because they have probably encountered similar obstacles.
The phrase "expect the unexpected" often appears in M&A, but with the appropriate advice, the unexpected is manageable.
Any transaction is a deal of some sort, some are simple to conduct, like a transaction between a customer and a shop clerk, but others can be complicated, like a deal or a transaction between a company owner and a new investor.
Despite the nature of these deals or their complexity, some points could always be considered to avoid and realize this phenomenon:
With all parties, establish reasonable expectations. Speak with a trustworthy advisor to learn about the procedure, the value of your company, and what to anticipate when considering a transaction. 
Before you have a buyer on the line, create a timeline that considers why and what you sell. 
Data and financial statements should be prepared in advance. While the definition of "clean" financials varies from buyer to purchase, they will conduct extensive due diligence. 
Name a single point of contact. Consistency is important; make sure your advisor(s) and sellers communicate with a single point of contact. This could be your CEO or owner, CFO, or CPA.
Set up recurring calls for both internal and external status. 
Take your time before the process starts because deal weariness results from physical, mental, and financial stress. 
Understanding deals and their nature before engaging in complex transactions require financial knowledge.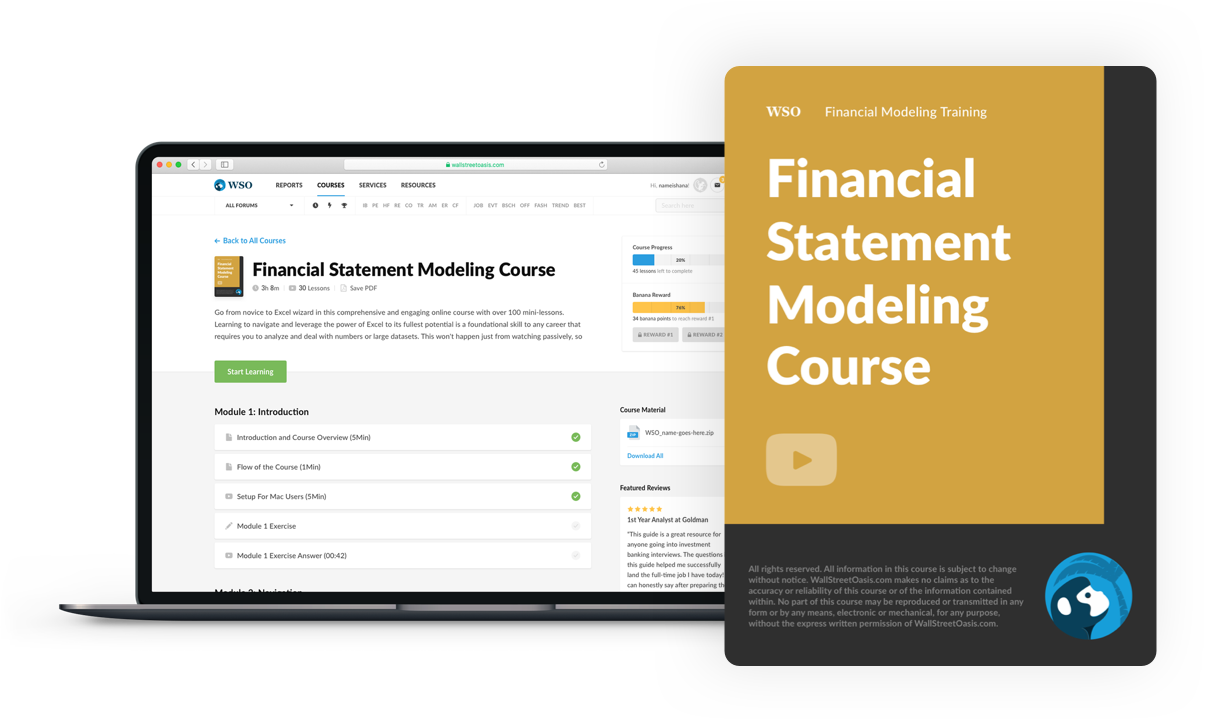 Everything You Need To Master Financial Statement Modeling
To Help You Thrive in the Most Prestigious Jobs on Wall Street.
Researched & authored by Ahmed Fagiry | LinkedIn
Free Resources
To continue learning and advancing your career, check out these additional helpful WSO resources: