Academia Sinks Its Hooks In Young
ST
Points)
on 9/28/13 at 7:30am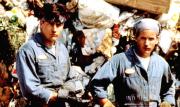 Mod note: Blast from the Past - "Best of Eddie." This one is originally from July 2012.
I think you guys will get a kick out of this, because I sure did. My boys are home for summer vacation. They're 7 and 9 years old, and they're about to enter second and fourth grade, respectively. We were walking home from lunch today when, out of the blue, my 9-year old asks me, "Dad, did you go to college?"
Now, I suspect he knew the answer because I'm sure we've talked about it at some point, but maybe he couldn't get his head around it. So I answered, "No, I didn't go to college." After a moment of silence, my 7-year old speaks up:
"So you're a dirtbag?"
He was completely sincere, and I really had to fight to stifle a laugh. Then his brother piles on:
"Yeah, dad. You're a dirtbag if you didn't go to college."
Back to the 7-year old:
"People who don't go to college have to pick up trash and be a garbage man." he pauses, "How come you're not a garbage man?" Again, he's completely sincere, but this time his tone is not one of "How did you beat the system?" but more of "Garbage man's a pretty cool gig, how did you fuck that up?".
By this time I can't help myself and I'm chuckling. I ask them, "Who told you that if you don't go to college you're a dirtbag?" My early suspicion rests on my wife, just because that's the kind of thing you probably tell your kid if you want them to stay in school. Still, it doesn't really sound like her, and in a lot of ways she's perversely proud of the things my uneducated ass has accomplished.
Neither one of them will immediately cop to where they heard it, so I press them. Finally the 9-year old gives it up:
"That's what the teachers say in school."
A-ha.
I have to admit I was kinda surprised that they're being indoctrinated so young. I don't necessarily object because I do place a lot of value on education, but I'm not sure I agree with the not so thinly-veiled elitism that goes into using garbage men as a cautionary tale.
I generally view academia outside the STEM disciplines as the world's largest (and costliest) circle jerk. It's designed to keep people paying tuition for as long as humanly possible, and we're starting to see the deleterious economic impact of that practice in the burgeoning student loan crisis.
If that weren't bad enough, however, now my kids think I'm a dirtbag (which was inevitable at some point, of course, just not this soon). And for that I'm paying out the ass. I got the bill for their next year's tuition a couple weeks ago and I'm not exaggerating when I say that I'm paying more for my 7-year old to attend second grade than was spent on the entirety of my own education.
Guess I shoulda been a teacher (at least when garbage man didn't work out).