Are you special? Or just another wannabe?

Points)
on 11/15/10 at 9:33pm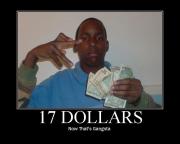 It's funny how a completely unrelated conversation connects to finance.
I was discussing with our man James Hunt the sad decline of the sports car industry, wherein once proud and truly special marques have lost their way and are now but shadows of their former selves. Complacent in mediocrity and slaves to marketing. And then it hit me:
This applies to you guys.
Most of us here were drawn to Wall Street eyes all wide, dreaming to strike it rich and have our names uttered in the same breath as Kravis, Buffett, and Soros.
We studied hard for it, we worked hard for it, and for some reason we actually expect it.
Well, there's one thing you monkeys should note about those guys; like a proper Ferrari, they have stood the test of time.
Show me the top 30 over 50 and they'll be some impressive track records/bios that are worth reading.
Much like the sports car industry today, today's Wall Street is littered with the mediocre. They still have all the flash; they still make all the noise, but most are far from what they set out to be in the first place.
Today's culture of getting rich quick has left most monkeys soft, complacent, and quick to burn out.
Some even think penny stock pimps are cool.
Now what would have happened if Kravis had that mentality? Would KKR be around?
What would have happened if PTJ had "a number"?
What would have happened if Buffett dreamt of "Fuck you money"?
Well they'll probably still be rich, they'll probably still be much better than us.
But they'd be generic, just another rich guy on the street, nothing special compared to who they are today.
Keep your eyes on the prize WSO, especially those who set out to be somebody in this world.
Only you can dictate if you're someone special, or just another wannabe.
Tags: