Kid Squats at AOL, Starts Company
ST
Points)
on 5/29/12 at 7:45am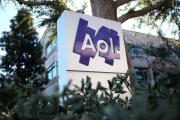 This is a story that is making the rounds around the start-up community and I thought you guys would enjoy it. duffmt6 tipped me off to it a few days ago and now it's gaining some steam on the Twittersphere.
19-year old high school graduate Eric Simons is not a big fan of school. Rather than go to college, he set out to start a company that would revolutionize the way lessons were taught in school. So far it sounds like just another dreamer turned entrepreneur about to get slapped in the face by reality.
However, after crashing on his buddies couches for several months, Simons was accepted into Imagine K12, a Silicon Valley incubator focused on education companies, which happened to be housed on the AOL campus in Palo Alto. The program lasted four months and he received $20,000 in seed capital, but the time and money eventually ran out. Rather than drop back and punt, Simons just kept coming to work. He discovered that AOL didn't turn off his security badge when the program ended, so he lived on the AOL campus for the next two months until he was caught by security.
When I say he lived on the campus, I mean he lived on the campus. He slept on couches in people's offices, he showered at the gym, he ate the free food, the whole shebang. The first month he squatted he spent a total of $30. All the while he continued building his start-up ClassConnect. And his gamble paid off. Even after being caught, he was far enough along in the process to score another $50,000 in venture capital, and now the product is taking off.
My life's motto has always been Audentes Fortuna Iuvat, which is Latin for "Fortune favors the brave". It can also be translated as fortune favors the audacious, which fits this kid to a tee. Sometimes you have to color outside the lines to be successful.