McAfee: The Gift that Keeps on Giving
ST
Points)
on 1/10/13 at 7:44am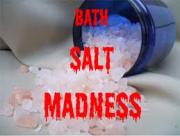 Huge hat tip to TheKing for finding this jewel and sending it to me.
Once John McAfee fled Belize and got booted out of Guatemala back to the States, I assumed his sordid tale had reached its (somewhat anti-climactic) conclusion. Silly me. No longer are eccentric millionaires content to go into seclusion, pissing in mason jars and growing out their fingernails 18 inches Howard Hughes-style. Today's well-monied nut jobs want to leave their mark.
To that end, John McAfee either deserves a medal for valor or a straitjacket. I'll let you decide. Because if what I'm about to share is even remotely true, prepare to have your mind blown.
John McAfee is a master spy who provided members of the Belizean establishment with compromised computers, planted covert sexual operatives in the lives of government officials, and even uncovered a Hezbollah training camp - where he still has covert operatives embedded.
Cocaine is a hulluva drug. Or maybe in this case, bath salts.
If you've got the time, this really is worth a read. It's almost plausible when you think about it. Who better to provide government officials with laptops compromised with invisible keystroke loggers than the guy who basically invented computer black ops? This technology certainly exists (ask any high schooler who's been grounded because their parents put spyware on their computer) and who is going to say no to a free laptop?
At this point you at least have to entertain the notion that this could be true. And, if it is, somebody in Belize has a lot of 'splaining to do. Like, how is it Lebanese members of Hezbollah are getting Belize passports (and, by extension, relatively easy access to the US)? And did the Prime Minister of Belize order the hit on Arthur Young, the notorious leader of the Taylor's Alley gang?
McAfee claims all of this and more. I have to admit, it left me wondering. Could an ex-software mogul with a harem of Mata Haris bring down a Central American government just for kicks? He sure makes it look that way.
Of course, it's probably pure fabrication. Maybe he's a pathological liar (there's certainly evidence for that). Maybe his noggin is zorched on bath salts. Or maybe, just maybe, he's got mad spy skills that make James Bond look like Johnny English.
What do you guys think? Is it for real? Or a complete delusion? Should McAfee be getting a medal or a straitjacket?
Tags: