Sandy Weill: Break Up the Banks
ST
Points)
on 7/26/12 at 7:30am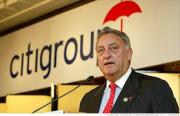 So the big news yesterday was that Sandy Weill, former Citigroup CEO and slayer of Glass-Steagall, called for the break-up of the Too Big To Fail banks. Take a moment to savor the rare irony in that notion. The guy who more or less created the monster is now calling for its destruction. Is he atoning for his sins and finally looking out for the little guy?
Ummmm...not so much.
His rationale is that smaller banks run leaner and therefore pay their executives better bonuses. He didn't say that, exactly. But if you read between the lines, it's pretty obvious:
Weill said that by breaking up banks, they would be "much" more profitable.
"This is what all the regional banks do and everybody says buy regional banks," he said. "They'll just be bigger regional banks."
Interestingly enough, legendary bank analyst Mike Mayo thinks the proposed break-ups could be a huge boon for investors, specifically Morgan Stanley shareholders. At the same time he was calling bullshit on Weill's hypocrisy, he said Morgan Stanley's break-up value was $32 a share (the stock is currently $13) and that MS short sellers would get "blown to Neptune" if a break-up were announced. That's some food for thought right there.
Does anyone doubt that breaking up the banks would be a good thing for the US economy? I'd like to hear the arguments against it, because I'm having a hard time coming up with one. Repealing Glass-Steagall was a 100 year storm-level fuck up, and the tsunami it caused destroyed the entire planet's financial system in less than a decade.
Maybe it's time to close those floodgates again. Ya think?